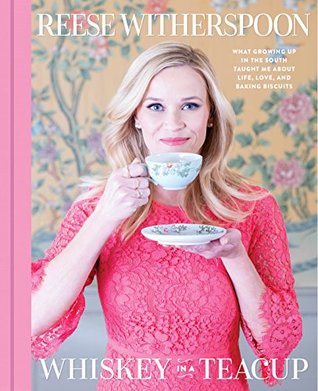 {Book Review}
Whiskey in a Teacup:
What Growing Up in the South Taught Me About Life, Love, and Baking Biscuits
By Reese Witherspoon
"Dorothea always said that it was a combination of beauty and strength that made southern women 'whiskey in a teacup.' We may be delicate and ornamental on the outside, she said, but inside we're strong and fiery." (page 10)
That feisty metaphor describes the Reese Witherspoon in her memoir to a T. The teacup represents the manners and hospitality that southern are known for. It's the way southern women follow the Golden Rule – they treat others with grace and respect, just as they would want to be treated. The whiskey represents the more boisterous aspects of southern culture – the music and the fight for fairness.
Witherspoon's grandmother Dorothea was the epitome of southern womanhood. She, along with other strong women in Witherspoon's childhood, instilled that southern culture in her, right down to her core. The shaped the woman she has become and the way Witherspoon lives her life today.
Review: This was a sweet, light read. It's a fairly short book – just under 300 pages but with tons of photos and recipes that you could easily finish the book in a day or two. The memoir is told through a variety of vignettes about music and cooking, gardening and decorating, entertaining and family. Most of those vignettes are pretty light, but they really show Witherspoon's roots.
I enjoyed the insight into the actress's life. That insight also hit home with me. As woman who was raised in New England and married a man from the south, I feel like I got a glimpse into some of the culture and traditions of my husband's family.
Format: I first listened to this book on audiobook – as the format was available via instant download from my library when an ebook wasn't – before reading it in hard copy a month or so later. I enjoyed hearing the story read by its author, an actress that I adore for always seeming so sweet and genuine. It was light, engaging and easy to follow along. But that being said, I wouldn't recommend it if you have a choice. There are just sooo many photos, tutorials and recipes integrated into the book that I think you lose something without them. (Note: The recipes were supposed to be in a pdf attached to the audio book but I couldn't figure it out. Even if I could, I'd miss all of the photos.)