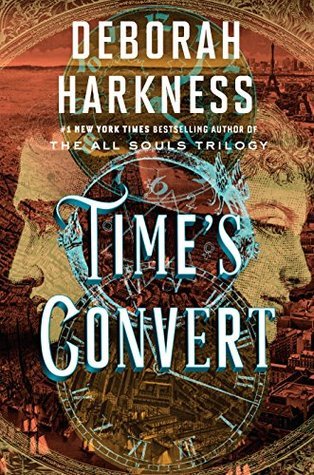 {Book Review}
Time's Convert
By Deborah Harkness
From the author of The All Souls Trilogy, Deborah Harkness brings us a standalone book that seems to be an extension of her well-known trilogy. Time's Convert tells the story of Marcus, Matthew de Clermont's son, both his past and present.
There are two story lines to this book, both centered around Marcus. In the present day, we follow Marcus and his warm-blood fiancé Phoebe during their 3-month separation as Phoebe becomes a vampire. On the one hand, we see Phoebe's transition from warm-blood to vampire, vampire infant to "fledgling." On the other, we watch Marcus – at home with Matthew, Diana and their twins – grappling with his separation from Phoebe and worrying for her. In this story line, Harkness spends a fair bit of time on Matthew and his mixed vampire-witch family that we came to love in the All Souls Trilogy.
The second story line is that of Marcus' past – his childhood as a warm-blood, his conversion to a vampire during the Revolutionary War, and his vampire youth. It's a fascinating mix of vampire lore and American history.
Review/Recommendation: Like the All Souls Trilogy, I couldn't put this down. You can totally read this as a standalone novel, but I think it's even better if you've read the trilogy, because you already love the secondary characters and are already familiar with Marcus from his role as a secondary character in the trilogy. The focus of this book – the transition from warm-blood to vampire – is something that was largely absent from the trilogy. In Time's Convert, the reader really understands what becoming a vampire in Harkness's world really means – the physical process of transitioning, the growth from infancy to vampire fledgling and what that entails. For instance, a new vampire must learn to walk as warm-bloods do (slowly!), sit and walk (without breaking things), get control of their senses and impulses, etc. It's quite fascinating.
Despite being a fantasy book – at least I characterize it as so because of all the vampires – I love the history that Harkness weaves into the story lines. It totally transforms what could be a very youthful story into a novel that adults enjoy.
Haven't read the All Soul Trilogy yet? Read my reviews of book 1 – A Discovery of Witches, book 2 – Shadow of Night, and book 3 – The Book of Life. You can also purchase the books through Amazon at the link provided below. (That is an affiliate link, which means that I earn a tiny percentage from your purchase – at no extra cost to you! – to go towards the maintenance of this blog.)