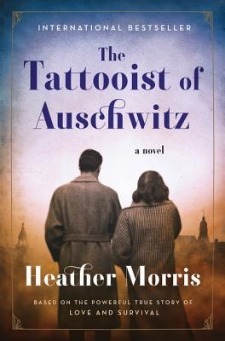 {Book Review}
The Tattooist of Auschwitz
By Heather Morris
What would you do to survive in a Nazi concentration camp? When Slovakian Jew Lale Sokolov ends up in Auschwitz-Birkenau, he swears that some day, he'll walk free. Lale is smart, cunning, determined, and seems to have a way with people.
Before long, Lale ends up as an apprentice to Auschwitz-Birkenau's tattooist, eventually becoming The Tattooist. He spends long days marking incoming men and women with their prison number. During his time as The Tattooist, he witnesses countless horrors but he also falls in love, with a Slovakian Jew named Gita. He does what he can to survive, to protect Gita, and to help his fellow prisoners wherever and whenever he can, at great risk to himself.
Review/Recommendation: Based on the true story of Lale Sokolov, The Tattooist of Auschwitz is an intense but awesome read. There's no escaping the horror – it's a book set largely in Nazi concentration camps – but the book is so much more than that. It's a story of great love, of hope, of perseverance and determination. Lale and Gita are the focal points, but seeing how many prisoners worked together and watched out for each other…. they create a little family that looks out for one another.
If there was a negative part of the book, for me, it was the transition from camp to returning to Slovakia, especially Gita's tale. It just seemed a bit rushed, although after reading the Author's Note at the end, I imagine the weak chapter was because so much of the work that went into this story was based on Morris' interviews with Lale. So the time when Lale and Gita were apart represented a gap in the story, which perhaps Lale would not have been able to fill.
Overall, this really was a fantastic book, easily devoured within just a couple of days. Read it. You'll enjoy the story and the characters, and you'll learn a little bit more about our history.