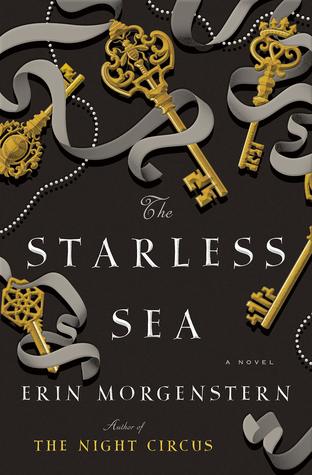 {Book Review}
The Starless Sea
By Erin Morgenstern
One day, Zachary Ezra Rawlins takes a book out of the library… and suddenly finds himself reading about a moment from his childhood – a moment when he stands before a painted door and chooses not to open it. That library book changes the trajectory of his life. Why was he in this book? What did it mean?
Borrowing the library book sets Zachary off on a journey he could never imagine. He meets the best storyteller he has ever heard, a man he could come to love. He meets a woman with pink hair that will guide him to and through strange places. He ends up in a fantastical world beneath the surface of the earth. A world of books, stories, doorways, and intrigue. But the longer he's there, the more questions he has. What is this strange world? What is his destiny?
Review: Guys, I was really excited about this one. I really enjoyed The Night Circus and couldn't wait to dive into The Starless Sea. And I wanted to love it. I really did.
But I don't remember when it was so hard for me to finish a book. This one was a real struggle. I don't know if it was my unsettled mind amidst a pandemic and 4+ weeks at home… or the high hopes I had set… or the book itself…. Either way, it wasn't what I had hoped it would be.
My biggest problem – really my only problem – was that it wasn't engaging. I want to be hooked. I want to be sucked in where I have trouble putting it down, staying up later than I should given the time my children awake. That didn't happen here. I had a really hard time switching back and forth between Zachary's story and some of the stories, some of the fables, that interspersed the novel. And even within the chapters following Zachary, I struggled to remain interested. I needed that I-don't-want-to-put-this-down feeling. I did finish the book – because it's hard for me to put a book down and because I really wanted to find out how the story ended, but by the end, I finished out of sheer willpower.
It's sad because I really did like everything else. The Starless Sea was beautifully written. Beautifully. The descriptions were wonderful, the world Morgenstern created described so clearly that I could picture it in my head as I was reading (just like The Night Circus). I liked the characters. They worked with the story, they seemed real and invoked feelings. And I did like and appreciate the creative story, the fantastic world that Morgenstern created. So it KILLS ME that I'm not raving to you all about The Starless Sea.
Have you read it? What did you think? Was it bad timing? Should I give it another try in a few months? Or was this book just not for me? Tell me in the comments.