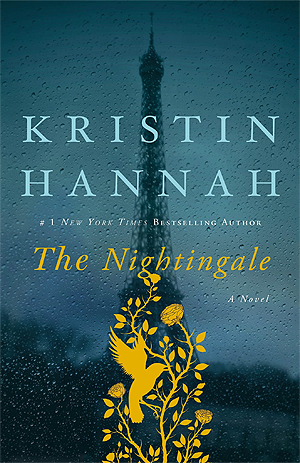 {Book Review}
By Kristin Hannah
The Nightingale is the story of two French sisters, each very different from one another but who both resist Nazi occupiers, each in their own way.
When the Nazis invade France, Vianne Mauriac's husband is called up to serve in the country's army. He leaves his wife and young daughter home alone to fend for themselves, to do their best to survive. Timid Vianne tries to fly under the radar of the Nazis that occupy not only her village but those that board in her home. When French Jews begin to be deported, Vianne can no longer stay quiet and watch Nazi atrocities. When her best friend is deported, Vianne is left to care for her son, a toddler, right under the nose of the Nazis. From that moment on, Vianne embarks on a secret mission to save as many Jewish children as possible.
Ont he flip side, Vianne's sister, Isabelle, wants to rebel against the Nazi's from the beginning, much to the dismay of her sister. Isabelle quickly becomes involved in underground groups to subvert the Nazis, working her way from someone who passes out anti-Nazi propaganda, to a woman who leads Allied forces to safety, crossing the Pyrenees mountains to do so.
Review/Recommendation: Another WWII-era historical fiction – Can you tell that's a favorite time period of mine? The Nightingale  largely takes place in the past – for the duration of the war – but there are a handful of short glimpses into the present day of one sister (sorry, not going to tell you which one – no spoilers!). While the jumps into present day are a bit jarring, the story is so engaging that when the novel returned to the sisters' story, I was able to jump right back in.
I have been seeing this book all over forever, but I didn't pick it up until a few months ago. I'm not sure why I waited so long, but I'm kicking myself for doing so. I really enjoy WWII-era historical fiction novels, and this one was no exception. As I said, the novel is very engaging and I was pretty quickly hooked. I felt great empathy for both the sisters and the struggles they faced to survive, to rebel, to stay a family despite their differences and the horrible circumstances in which they lived. I wanted both to be successful in their personal missions, but it pained me to see their differences come between them.
Despite the difficult topic of wartime occupation, for the most part, the book flew by. In the majority of the novel, while more difficult topics (i.e. rape) clearly took place, scenes ended at a point where the reader had no doubt what would happen but was not left with detailed descriptions. The end of the book changed in that manner, where wartime atrocities – like Nazi maltreatment of French citizens, prisoners, etc. – took a more prominent place in the story.
Despite the tougher ending (I had to stop reading it before bed), The Nightingale was a great book – the first I read by Kristin Hannah. I can't wait to start the next one (which just hit my ereader this week!).
[amazon_link asins='1250080401′ template='ProductCarousel' store='booksncooks-20′ marketplace='US' link_id='bd168b43-a730-11e8-8e39-eb7ab82c88c7′]