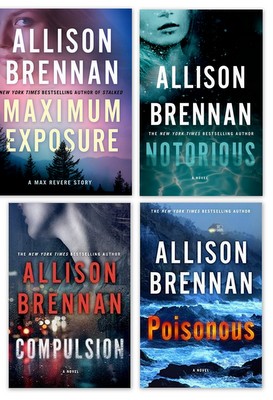 {Book Review}
The Max Revere Novels
By Allison Brennan
~~~~~~~~~~~~~~~~~~~~~~~~~
Book .5: Maximum Exposure
Book 1: Notorious
Book 2 :Compulsion
Book 3: Poisonous
~~~~~~~~~~~~~~~~~~~~~~~~~
Maxine Revere, Max, is an investigative reporter specializing in cold cases. After a couple of hit books to accompany her journalism career, her college friend talks her into hosting a television show focused on criminal justice, Maximum Exposure.
This series follows Max and her sidekick – assistant/bodyguard David Kane – as they investigate cold cases through their employment at NET. Max is outspoken, righteous, and a firm believer in the truth. In fact, she pursues the truth relentlessly, viewing the idea of 'knowing the truth' in black and white terms. The truth is always better than not just a lie but also the unknown, a view that frequently puts her at odds with friends, adversaries and sometimes, the people she's trying to help.
Review/Recommendation: This series (so far) is a light, quick read. The first four parts of the series have been published recently, beginning in 2014, with the most recent being released in April of this year. Max's role as a reporter makes the series stand out from others in the genre, who favor law enforcement personnel as leading characters.
I enjoyed the characters in the series. Max was referred to numerous times as a "bitch," but the truth is that she's blunt, honest, and determined. She's a strong protagonist and while she may not see eye-to-eye with others, she stands firmly behind her beliefs, for better or worse. The supporting characters add some lightness and depth to the series – Max bickers constantly with her friend-coworker; her love interest flits in and out of the books and reveals a bit of a playful side to Max.
The plot lines are entertaining but not generally too deep, which is pretty much what I expect for books in this genre. Overall, I'd recommend it to anyone looking for an easy, light book (beach-read anyone?).
Grade: B+
Save
Save
Save