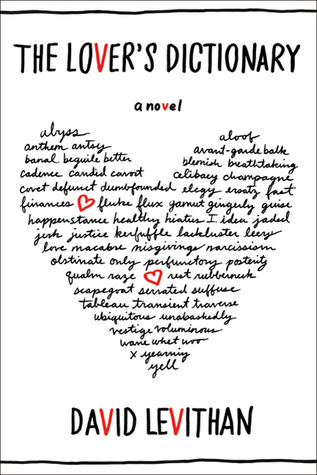 Book Review:
The Lover's Dictionary
David Levithan
The Lover's Dictionary is a short chronicle of a couple's relationship. The book is written in the form of a dictionary, with each dictionary word representing a memory, an event, or a challenge in the couple's relationship.
Recommendation: Reading the book jacket, I wasn't immediately drawn to The Lover's Dictionary. I ended up reading it based on recommendations and reviews,* and ultimately, I enjoyed it. The book is very short and a pretty quick read (I read it over a busy weekend), but it does invoke a bit of thought. I loved the unique format of the book. Even though the entries are not very long – anywhere from a few sentences to a couple of pages – the entries succeed in telling the story about the two nameless, genderless characters (referred to as I, me, and you). You would think that with the short chapters and the lack of even a gender for the main characters, that it would be difficult to get to know the characters, but that isn't the case. Levithan succeeds in portraying the character's personalities and the dynamics of their relationship. As a reader, I felt the awkwardness of drunken nights, the excitement in their adventures, the pain in their struggles.
The Lover's Dictionary is not in chronological order so there were a couple pieces that kind of fell away until a number of pages later when it was brought up or alluded to again. But in the end, you still see the whole picture of their relationship.
Read this book. It's short – you'll fly through it, but it's well-written and completely worth your time.
Grade: B+
[amazon_link asins='1250002354′ template='ProductCarousel' store='booksncooks-20′ marketplace='US' link_id='c1a059a3-5862-43c1-8cf8-ee8b383c06dd']