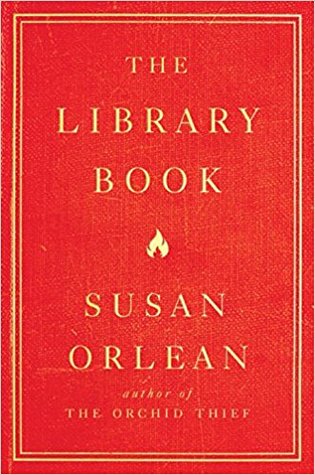 {Book Review}
The Library Book
By Susan Orlean
In April 1986, a massive fire broke out in the Los Angeles Public Library. The fire burned for 7 hours, destroying 400,000 books and damaging an additional 700,000. It took more than a dozen years before the library was returned to the community – the library restored and expanded, books restored through massive effort, books replaced…
The fire inspectors ruled out the usual suspects and declared the fire was set intentionally. A suspect, Harry Peak, was investigated but never charged.
In The Library Book, Susan Orlean uses the 1986 fire and recovery period as  a way to tell the broader story of libraries and librarians, how the institution of public libraries and the profession of librarian evolved in the U.S..
Review/Recommendation: The quote on the cover of this book says, "Mesmerizing… A riveting mix of true crime, history, biography, and immersion journalism." (From BOOK LIST)
In fact, when I picked up this book, I thought that there would be much more true crime woven into the story than there was. While the fire at the Los Angeles public library was the central pillar of the book, the novel felt less about the fire and the investigation into arson, and more about the history of the Los Angeles library system, their librarians over the years, and the broader context of libraries and librarians in the U.S.
Don't get me wrong, as an avid reader and lover of books since childhood, I did enjoy this book. The history Orlean's described was fascinating to me. However, it was not the true crime story that I expected. It's much more of a history novel, told in a unique fashion.
I will say that the book's flow was a little jumpy – it wasn't always clear why we jumped from one well-researched topic to another. It worked, but it is something that I felt necessary to call out in the review, as it's something that I thought of several times during the book's reading.
If you're a lover of books and interested in the evolution of our library system, then I think you'll enjoy this book. If you're looking for true crime, then it's probably not for you.