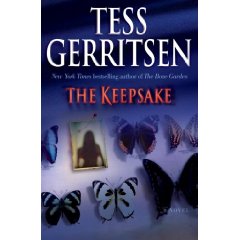 Book Review: The Keepsake
Tess Gerritsen is another of the mystery authors that I really enjoy, with most of her books centered around the same cast of characters – Boston cops. While I don't normally post reviews of all my mysteries (I just read them way too fast!) but this one was particularly enjoyable so I wanted to leave a little something.
The Keepsake is the story of the "anthropology killer," a murderer who is killing women and preserving them according to ancient methods (think of the mummies…). The murder investigation was intertwined with historical facts and antidotes. What I most enjoyed about the story was its unpredictability – even up until the last few pages there were twists that made me second-guess what we already knew and what we expected to happen.
If you enjoy James Patterson, Alex Kava, or other mystery & suspense authors (authors of "murder mysteries," as I like to call them), then I would definitely recommend The Keepsake, or any other book by Gerritsen.
January 2010 Update: This review was spotlighted on Mysteries and My Musings' January Mystery & Crime Fiction Blog Carnival. Check it out for more mystery reviews.