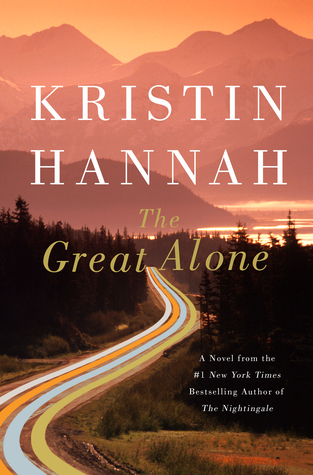 {Book Review}
By Kristin Hannah
It's 1974. Thirteen year old Leni and her parents move to Alaska to escape life. Her father was struggling with holding down a job, excessive drinking, nightmares, and violent tendencies after returning from serving in the Vietnam War. In his mind, the simpleness of Alaska would make things better.
Leni and her family arrive woefully unprepared. They have a rundown house left to them by a friend her father served with, but they have so much to learn if they're to survive winter. They must learn to garden, fish and hunt, and preserve their own food. They must learn how to live and survive in the Alaskan wilderness – the harsh weather, the wolves and bears – that threaten their livelihood all year round. They build those skills with the help of the local community, but life isn't easy. And the quietness and isolation of Alaska don't help Leni's father escape his demons.
The Great Alone spans several years as we watch the family becomes Alaskan. Leni grows up while her father continues to struggle – forcing Leni and her mother to deal with more unpleasantness than they should have to.
Review/Recommendations: I have mixed feelings about this book. Like Hannah's The Nightingale, it was beautifully written. Her descriptions were beautiful and detailed, the characters were genuine. But it took me about halfway through the book to get really into it, to a point where I didn't want to put it down.
The Great Alone is a fascinating historical perspective of life in general in the 1970s and 1980s, but more specifically in Alaska. Still difficult to reach and underdeveloped in comparison to other parts of the country, the isolated state was home to the people that wanted to escape, to get away from civilization, to live a simpler life. The range of people who sought out Alaska was amazing – from educated, hardworking men and women who needed to get away, to those that wanted to live closer to the land, to those that were a bit crazy.
Leni's father fell into the latter. His experience as a POW in the Vietnam War made him eccentric and paranoid. He spoke frequently of the need to be prepared for the next war, the end of times. And there was a small group of people in Alaska that related to those stories and worried about a nuclear attack.
There were admittedly parts of this book that were difficult to read, that made you feel more passionately for the characters, from the hardships of living in an isolated Alaska (the ease in which someone could be seriously injured or killed by the weather or the environment) and the domestic abuse. But the strength of Leni and her mother made me like them all the more. Their struggles were evident, and never easy, but the women were strong. They fought for themselves and their loved ones. And that in and of itself was beautiful.
Give this a read. It won't be an easy one, but it will be a good one.
[amazon_link asins='0312577230′ template='ProductCarousel' store='booksncooks-20′ marketplace='US' link_id='a03d97b7-a730-11e8-8d8f-172bfbf02c5e']
This post contains affiliate links. This means that I earn a small percentage of the sale at no extra cost to you, which goes towards the maintenance of this blog. Thanks in advance for your support!