The Forgotten Garden chronicles the efforts of two women to uncover pieces of their own family history.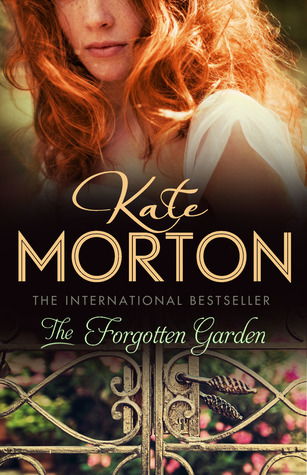 Disclaimer: This post contains affiliate links, which means that if you click on the link and purchase, I make a very small percentage (at no additional cost to you!) which goes towards maintenance of this blog. Thanks for your support!
Book Review
The Forgotten Garden
By Kate Morton
A little girl is found alone with a small suitcase of clothes and a beautiful book of fairy tales on a dock in Australia in 1913. The little girl has no memory. The dockmaster is unable to find her family, or even figure out where to begin looking for them. He takes the little girl home and she is quickly adopted as the first child of the dockmaster and his wife. Named Nell, the little girl grows up knowing nothing of her past, the eldest child of a large family. But when Nell turns 21, her father tells her the truth of her origins – that she was not his biological daughter and that he had no idea of where she came from or who her family might be.
The Forgotten Garden is a story of Nell's life through multiple sets of eyes during multiple time periods. First, there is Nell's granddaughter Cassandra, who journeys from Australia to England after Nell's death, to uncover the truth about Nell's past (2005, the present of the book). The second set of stories is that of Nell's own journey to England in 1975, when she attempts to identify her parents and learn about the first few years of her life. Third is set in the early 1900s, following the lives of the Mountrachet family, believed to be Nell's family. And finally, interwoven in the above, there are short stories from Nell's book of fairy tales written by The Authoress.
Review/Recommendation: This book was enjoyable throughout, but I really got hooked about halfway through, when I got caught up in the story and started reading at an almost feverish pace. I was thoroughly invested in all of the characters and plot lines, so the switching back and forth between characters and time periods was seamless to me. Additionally, Morton did an excellent job threading the pieces of Nell's story through each part – showing the reader exactly what happened in the chapter from the early 1900s and then how those particular pieces of the story were brought to light for Nell and/or Cassandra. Amazingly, it felt like the story was packaged into a nice, neat bundle by the end of the book, both satisfying and slightly surprising at exactly how neatly things came together (I actually found myself rewinding the book a bit to make sure everything was covered).
The writing in the book was beautiful; the characters showed depth and evolution. In fact, after finishing the book, I couldn't stop feeling sad for a couple of the characters. They weren't the most likeable characters, but their life circumstances evoked such empathy for them. If their life were a bit different or a certain person did not have such a strong influence on those characters, things could have turned out so very differently for them. And no, that sadness didn't grip me as I read the book but it was something I thought about after I finished it, as I started thinking about writing this review. It's not often that sentiments about a book stay with me for a little while after finishing, so for that, kudos to Morton!
I gave this book 4/5 stars on Goodreads for two reasons. First, I found the "mystery" a bit predictable – I was pretty easily able to guess the ending, both because it was a bit predictable and because Morton so clearly laid out the clues surrounding Nell's childhood. Secondly, one piece of the novel left me slightly unsettled as I read it – I was bothered by the strong parallels in several of the fairy tales to other fairy tales and stories that I grew up knowing. I suppose that my feelings about it may be a bit irrational, because so many fairy tales and stories are based on something else, but the parallels were a bit too obvious for me to feel completely comfortable with. That being said, if the fairy tales were absent from the book, I probably would have been curious and wished that they had been included. So it may be an imperfect solution either way.
The Forgotten Garden was an enjoyable read, a great book with which to finish my summer reading.
Have you read this book? If so, what did you think? If not, you can find this book on Amazon.
Save
Save