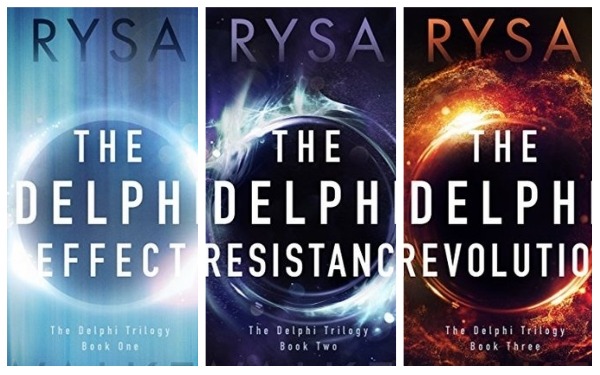 {Book Review}
The Delphi Trilogy
By Rysa Walker
The Delphi Trilogy consists of three books:
The Delphi Effect
The Delphi Resistance
The Delphi Revolution
There is also a novella – The Abandoned: A Delphi Novella (#2.5) that I did not read prior to writing this review. (The novella is available on Amazon's Kindle Unlimited – see affiliate link at the bottom of this review – but I read several of Walker's short stories and novellas that were paired with previous series, and enjoyed them thoroughly. The short stories and novellas usually provided insight into the lives of secondary characters.)
Do you believe in psychic powers?
The world in 2019 didn't either, until presidential candidate Senator Ron Cregg showed the world what a couple of kids were capable of on national television. Not only did Cregg reveal that psychic powers were real and potentially very dangerous, but he revealed that psychics were created by a mix of military and governmental programs, most commonly known as the Delphi Project. Cregg's revelations terrified the nation, creating an environment of fear and mistrust that just kept growing.
As Cregg worked the public into a panic, others sought to kill those that participated in the Delphi Project, and capture any of their children, known as Delphi adepts, who inherited psychic powers as a result of the experimentation on their parent or parents.
The Delphi Trilogy follows seventeen-year old Anna Morgan and a group of friends – almost all of whom possessed some sort of psychic power – who did their best to escape capture, to debunk Cregg's conspiracy story, and to find some sort of safety for Delphi participants and adepts alike.
Review/Recommendation: The third book in this trilogy was released in early October and unlike other series, I waited until the whole trilogy was out before starting to read them. I find that I prefer to binge-read a series – especially when they're good ones! – rather than read each book as it is released.
This is the second series that I've read by Walker and I enjoyed it just as much as the first. I fly through her young adult/fantasy novels, which provide an escape from reality. I get totally sucked into the worlds she creates and have a hard time putting down the series until its read. The Delphi Trilogy was no different. The story told throughout the three books was good – fast-paced, not super predictable with lots of twists and turns.
Unlike some young adult books, the dialog is not quite so… corny, the characters not quite so full of teenage angst as you might encounter in other young adult series – which is one of the reasons that I was able to enjoy the trilogy as a adult.
Looking to lose yourself in a story for a few days? Walker's series will do it.
Like this series? Have you read any other of Rysa Walker's books? If not, check out my review of The Chronos Files here.