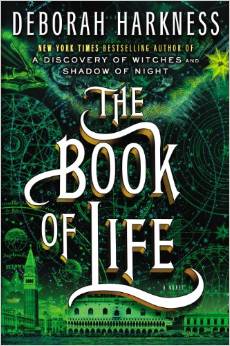 This review is for the final book in the All Souls Trilogy (aka the Discovery of Witches Trilogy). If you haven't read my review of the first (or second) book, I recommend you start there.
Book Review:
The Book of Life
By Deborah Harkness
In this final book of the All Souls trilogy, Diana and Matthew return to the present so that they can start their own family and to finish their quest of finding the legendary ancient text desired by witches and vampires alike, Ashmole 782.
But nothing is ever easy. Diana and Matthew must beat other witches and vampires to the book, as well as deal with Matthew's disowned son, who seeks to destroy the de Claremont family.
Review/Recommendation: If you want my opinion in a nutshell, well here it is. I loved this book – I seriously couldn't put it down.
When I started The Book of Life, I was a little worried that it would be hard for me to get into it, that I wouldn't remember everything from the first two books. I debated about rereading them, but honestly, with an 18-month old running up the stairs every time I turn my back, I knew I wouldn't have time to do so. As it turns out, I didn't need a refresher – the story and characters came back to me within a few pages of starting the final book in the trilogy. From that moment on, I could barely put it down. Seriously. The baby got to play in the iPad more than usual that week.
While the whole story was fantastic, I really appreciated the ending of the book. Not only did Harkness ties everything together nicely, she managed to leave me feeling satisfied, which I think is rare in many series (serieses?) that I read. Definitely an awesome end to an amazing trilogy.
[amazon_link asins='0143119680,B00G3L6KQI,0399564519,0143123629,0147517729′ template='ProductCarousel' store='booksncooks-20′ marketplace='US' link_id='c2548a68-d063-11e8-8987-1dc6b88ea03e']