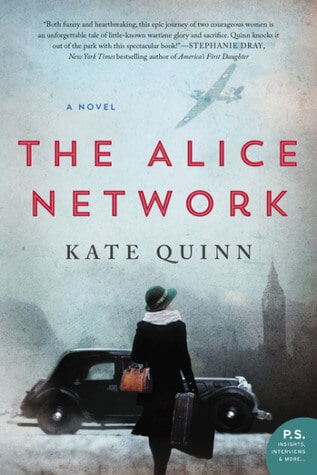 {Book Review}
The Alice Network
By Kate Quinn
It's 1947 and Charlie St. Clair is on her way to Europe with her mom, to take care of her Little Problem. Unwed and pregnant, Charlie is consumed with worry and hope for her cousin Rose, who disappeared in France during WWII. She may have lost her brother, but she's determined to find and save her cousin. So Charlie ditches her mother and her appointment, and takes off looking for Rose by following the only lead she has – a name. Eve Gardiner.
Eve is a grumpy woman who looks years older than she is. She swears like a sailor, drinks like a fish, and (frequently) drunkenly wields a gun. Eve is a woman burdened by her past. When an opportunity for revenge arises, Eve can't resist. You see, Eve is a heroine, a WWI veteran of one of the most successful Ally spy networks based in France during WWI. The Alice Network. Her months as a spy – and the betrayal that ended those months – marked Eve's life for years. So when Charlie shows up whispering a name Eve hasn't heard for years… she can't help but to aid the young socialite in her quest while seeing closure for herself.
Review: After reading The Starless Sea and feeling a bit disappointed, I chose this book because I was sure I'd be sucked in. Over the past year or two, I've really been enjoying historical fiction novels and have a particular fondness for WWII-era novels. The Alice Network did not disappoint.
The story was well-written and engaging. The Alice Network has a little of everything – mystery unfolding, romance brewing, family drama, some action… I couldn't put it down. I also really appreciate how the story was not all sunshine and rainbows – it wasn't all happy endings, which is tough but it's life. And the challenges and unhappy moments make people who they are as much as those happy times, so it's important to have them in there.
The Alice Network begins as two separate, distinct stories – that of Charlie and that of young Eve, the spy. About halfway through the novel, the two story lines sort of merge as Eve eventually reveals her past to Charlie. This was done really, really well. As unpleasant and cranky as 1947 Eve was, her story very quickly showed what a formidable woman she was. And for her part, sweet, naive Charlie was likable as a highly intelligent woman who cared deeply for people, and who just needed a little time to become the woman she was meant to be.
I really enjoyed The Alice Network and would highly recommend it. It's not a short novel but it's so engaging that you'll fly through it.