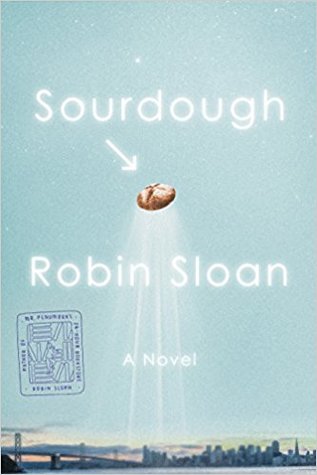 {Book Review}
Sourdough
By Robin Sloan
Lois is a software engineer for a San Francisco robotics company, but she is isn't particularly happy. She works long days, subsisting on takeout and a meal replacement 'drink' (a nutritive gel) called Slurry. Her anxiety lives in an ever-present knot in her stomach.
Lois' world starts to change when a Mazg takeout menu is slipped under her door. She orders the Spicy Combo, a Spicy Sandwich and Spicy Soup, and becomes hooked. The Spicy Combo becomes her daily dinner in order to quiet her anxious stomach. That is, until the brothers that own the restaurant (which, come to find out, is their apartment kitchen) leave San Francisco. When they go, the brothers leave Lois with a parting gift – an opinionated, feisty sourdough starter that was the base of their Spicy Sandwich – which Lois is tasked to care in their absence.
Armed with the sourdough starter, Lois learns to bake amazing bread that takes her from programmer to baker-programmer at a new farmers market, selling her bread while teaching a robot arm how to help in her new bread-baking business.
Review/Recommendation: I absolutely devoured this short little novel – super cute, and relatable for those that find time in the kitchen as a place of relief, a place to recharge from work or life in general. It definitely hit home with me, since I work with a bunch of tech-savvy computer guys but am a liberal arts major (who loves crafts) that would be quite content working in a kitchen instead of an office.
Sourdough is filled with fun, quirky characters – from the farmer's market crew to the Slurry club (a group a the robotics company who subsist on Slurry, to various degrees, instead of food), to the Lois Club (a group of old woman, all named Lois). This varied cast of characters, along with research and determination, help Lois find her way to happiness.
As the book progresses, following Lois' journey, the weird comes out. The story behind the Lois Club was cute, although a bit unlikely. The idea that a sourdough starter has personality, never mind one so feisty, is definitely out there. At the height of weirdness, the end of the book has a scene that's completely unrealistic, but that's ok. All of this weird somehow works, and doesn't seem quite so odd or outlandish as your read. At least not for this reader.
In summary, this book is light, funny, and definitely worth a read. I'll be watching the bookshelves for Sloan's next release, as he's 2 for 2 in my book.
Sourdough is available on Amazon.
Want to read more by Robin Sloan? Check out Mr. Penumbra's 24-Hour Bookstore, also reviewed on Books n' Cooks and available on Amazon.