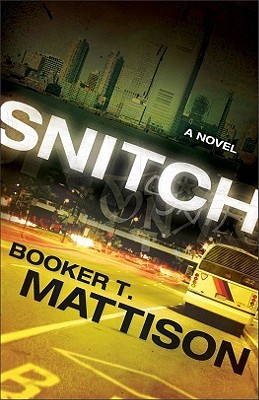 {Book Review}
Snitch
By Brooker T Mattison
One night while driving his normal bus route, Andre Bolden, aka Dre, witnesses a murder. In a town where nobody talks to the cops, Andre calls in an anonymous tip and tries to move on with his life.
However, that night changed his life. His tip to the cops results in him losing his job. While Andre only saw the killer's eyes, his presence that night marks him as a target. Andre's life is a mess – he has no job, is locked out of his apartment for failure to pay rent, and is unable to make amends with the woman he loves. He's anxious, severely depressed and struggling to find the good in the world when he feels like he's been dealt such a bad hand.
Review/Recommendation: I read a good bit of mystery and suspense novels. You might say that I'm a mystery junkie. I love a good quick read, with very little thinking, to take my mind off the long day. I'd say that Snitch, filmmaker Mattison's second novel  published in 2011, falls into this genre.
However, Snitch stands out from its peers in the mystery-suspense category in several ways. First is the writing style. The prose is slightly poetic – something that could be attributed to the main character's passion for poetry and creative writing or to the author's own writing style (I'll have to read his first and only other novel to find out). Secondly, unlike many other novels I've read in this genre, almost every character in this book truly had his or her own voice. There was no rereading a page of dialog because I lost track of who was speaking. Each character's upbringing and lifestyle was reflected in their voice. Finally, the depth and development of the characters, Andre in particular, was unparalleled to many other books in this genre. Their spiritual and emotional conflict and angst  was truly apparent and genuine-feeling, although the story still read like a quick mystery novel.
Snitch was a breath of fresh air compared to so many of the suspense novels I read. Great, quick story but with so much more depth that it's hard not to appreciate it.
Grade: A