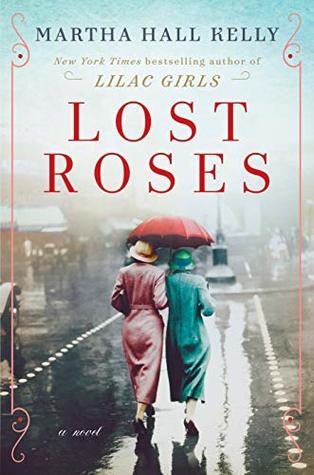 {Book Review}
Lost Roses
By Martha Hall Kelly
Lost Roses is the story of three strong women who live worlds apart. It is the story of their experience during and just after World War I – and the 1917 Russian Revolution – their stories entwined in very different ways.
First there is Eliza Ferriday, a New England socialite who loves to travel. In fact, one of her closest friends is Sofya Streshnayva, a Russian noblewoman she met while in France. When communication from Sofya ceases during the war, Eliza fills her time as an advocate for the White Russian population who emigrated to New England, mostly women and children. As soon as it's safe to travel, she plans to go look for Sofya and her family.
Sofya is the daughter of Russia's Finance Minister and a cousin of the ruling Romanov family. Married with a baby/toddler, Sofya remains close with her father, stepmother, and younger sister Luba. The family lives in Petrograd (the city known today as Saint Petersburg) and has a second home on the outskirts of the city. But as a White Russian, Sofya's family faces huge challenges during the war – they become separated and they no longer know who to trust. Russia is now very dangerous for them.
Finally, there is Varinka – a peasant and the daughter of a local fortune-teller. Varinka lives with her mother and her guardian, a cruel man named Taras. Varinka is brought to Sofya's family estate where she cares for Sofya's son Max. Her life is a hard one, and as a result, she doesn't make the best decisions.
Review/Recommendation: I'll start my review with a caveat. Lost Roses, released in April of this year, is the second book in the Lilac Girls series, but is actually a prequel to the first book, Lilac Girls. At the time of writing this review, I had not yet read Lilac Girls, although I'm planning to start it as soon as I finish this post.
Lost Roses was another historical fiction book that I thoroughly enjoyed. The writing was beautiful, the descriptions transporting the reader to a different time and often a different place – be it New England, Paris, or Russia.
The characters in Lost Roses were one of the book's strengths. Eliza and Sofya were strong, good women. They fought not only for their families but for others, taking a stand to do what was right. I couldn't help but feel for them when they suffered and smile when they achieved something.
Varinka was strong, but in a different way. She had such a different, hard upbringing. She worked to protect those she loved, but her personal situation was so hard that even when she made bad decisions, it was hard to really dislike her. Instead, I pitied her, hating the cruel hand that she had been dealt.
Lost Roses was inspired by historical figures, as Kelly details in the postscript at the end of the novel, but as you're reading through it, you can tell that it is well-researched.
And now, please excuse me while I jump into Lilac Girls. 😉