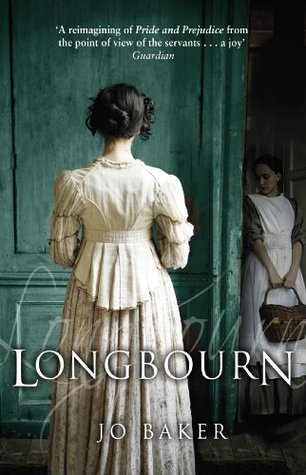 Book Review:
Longbourn
By Jo Baker
The story behind Longbourn can be summarized in one sentence: it is Pride and Prejudice told from the point of view of the servants.
Although Jane Austen rarely mentions a servant in her classic novel, Baker creates a series of characters who wait on the Bennetts: Sarah (orphaned at 6, she grew into a young woman while serving as housemaid), Mr. and Mrs. Hill (elderly head butler and housekeeper), Polly (even young housemaid who is naive and full of dreams), and James Smith (orphan who, after a series of hardships, becomes a butler).
Review & Recommendation: There's something I love about British history. Maybe it stems from a high school trip to England with my grandma (my first trip overseas), seeing the beautiful buildings and picking out new-to-me foods. Or maybe it's the fairy tale-like stories, both fiction and non-fiction of royalty and nobility that I simply cant' relate to. Whatever the reason, I am drawn to British historical novels, fiction and non-fiction alike.
Pride and Prejudice has long been a favorite of mine (I've even been known to read some of the trashy spin-offs) so when Longbourn was chosen as a book for book club, I quickly bought an e-book version, but dawdled before starting it with fear I'd finish too quickly. Life got me sidetracked so I took quite a while in reading it, but I thoroughly enjoyed Longbourn. Actually, the feel of the book reminded me a lot of Downton Abbey, which I devoured while on maternity leave.
Anyway, I felt that the tone of the book stayed fairly true to Jane Austen and the story-line of Longbourn follows that of Pride and Prejudice. However, it is important to note that because the role of the servants was minimal in Pride and Prejudice, Baker made up just about everything that the servants were doing. As a result, sometimes the story felt a bit choppy, like long, classic scenes in Pride and Prejudice were cut short, and that we left from scene to scene with little transition.
The other critique I have is that the story is interrupted for several pages by a flashback into the footman's (James) history. While I appreciate the character background, it was a huge break in the story (added because there wasn't enough for the servants to be doing along the story line of Pride and Prejudice?) and ended up feeling like Baker was trying to fill pages.
Overall, Longbourn was an enjoyable and different read for a Pride and Prejudice enthusiast.
Grade: B