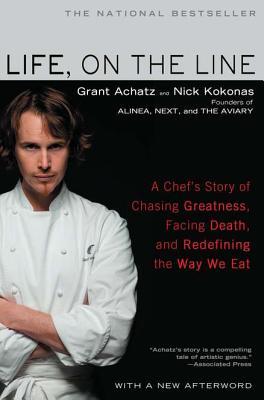 {Book Review}
Life, On the Line:
A Chef's Story of Chasing Greatness, Facing Death, and Redefining the Way We Eat
By Grant Achatz and Nick Kokonas
Disclaimer: This post contains affiliate links, which means that if you click on the link and purchase, I make a very small percentage (at no additional cost to you!) which goes towards maintenance of this blog. Thanks for your support!
Life, On the Line is the story of Grant Achatz, a young man from Michigan who grew up in the kitchens of family restaurants and how he rose to become one of the greatest chefs in America.
Review/Recommendation: Although I consider myself to be somewhat of a foodie, Grant Achatz was unknown to me until my husband received his gorgeous cookbook, Alinea, one year for Christmas. After paging through the cookbook – which was more of a coffee table book full of incredible photos than a cookbook for the home cook – I immediately ordered Life, On the Line to learn more about Achatz.
Achatz's story – his drive and passion for food and cooking – was incredible, and shown through every aspect of the book. I was rooting for him from the beginning, as a young chef out of culinary school who wanted nothing more than to learn and become the best. We readers watched Achatz grow, experiment, and find himself in Life, On the Line. We watched him nurture his restaurant and his food to become Best Restaurant in America, per Gourmet magazine.
I also was really touched by Achatz's relationship with his mentor, Thomas Keller of The French Laundry. Another famous chef from one of the country's best restaurants, I loved reading about how Keller mentored Achatz, encouraged him to find his own way, and cheered on his successes.
About 80% into the book, the tone changed completely as Achatz's life was turned upside-down in his early 30s. For those that don't know, shortly after Achatz's restaurant took off and started receiving national accolades, the chef was diagnosed with stage IV squamous cell carcinoma – tongue cancer. The end of the book was emotional and sometimes tough to get through, as the reader followed Achatz's battle for his life – his fight to find the will to survive, the journey to figure out how to keep his tongue and his livelihood, the torture of his treatments, and his struggle to maintain his passion for food.
Food-lovers would love the insight into the drive and passion of one of America's greatest chefs. But truthfully, Achatz's story should inspire everyone to work hard to make their dreams come true, despite any obstacles that get tossed in their way.
Life, On the Line is available on Amazon.
Save