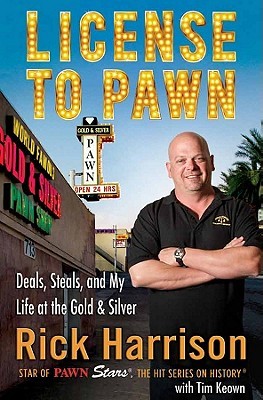 {Book Review}
License to Pawn:
Deals, Steals, and My Life at the Gold & Silver
By Rick Harrison with Tim Keown
License to Pawn details the story of the Harrison family and the creation of the Gold & Silver Pawn Shop in Las Vegas.
The reader is given a glimpse into Rick Harrison's upbringing, tenacity and life behind the scenes of the show. There is a chapter by each of other three main characters – Old Man (Rick's father), Big Hoss (Rick's son), and (family friend) Chum. The reader learns about Old Man's work ethic, Big Hoss's troubled youth, and Chum's real personality, not the goofy guy we see on Pawn Stars.
Recommendation/Review: If you're a fan of the hit reality show Pawn Stars, then I think you'll find License to Pawn a fascinating read.
For me, the book made the characters on the show more relate-able and likable. It's not that they weren't relate-able before I read the book, but I have a newer appreciation for the men who faced some intense challenges to get to where they are today – a childhood filled of epileptic seizures, financial hardships, drugs… but the men persevered through stubbornness, determination, and ingenuity. I particularly enjoyed the stories Rick told of scouring shops and markets for decent knockoff purses and jeans with his parents – capitalizing on whatever fad was going on at the moment, in order to make a little extra money.
I'll admit it – I've never actually stepped into a pawn shop. I have no idea what one is like, apart from the show, so I found Rick Harrison's insight into the pawn industry incredibly interesting. It never occurred to me that all transactions that take place are downloaded to Homeland Security or that a pawn transaction is actually confidential. It's crazy to hear about the contradictory or slightly bizzare laws. For instance, pawn shops can buy and sell pre-1898 guns that can shoot bullets produced today, but they can't sell more modern guns. Both can kill, but age classifies one as an antique, and therefore acceptable to sell at a pawn shop (and no need to file all of the paperwork that would be required for a modern gun).
This book is worth a read for anyone who enjoys the show or history. I've got my husband to thank for my enjoyment of this book (as well as of the television show). I definitely have a new respect for the Harrison family after reading their story.
Grade: A-