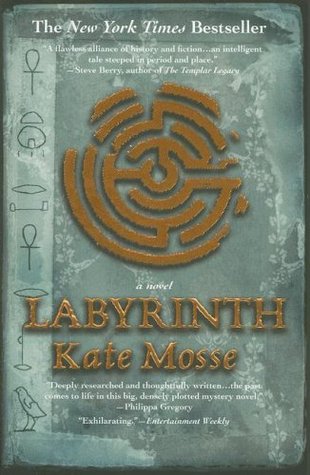 {Book Review}
Labyrinth
By Kate Mosse
Labyrinth features two story lines of women both destined to play critical roles in a secret society created to protect the Grail.
As the Crusaders threaten Carcassonne, in the Pyrenees mountains, southern France, a Guardian of the Grail worries that he won't be able to protect the secret of the Grail. To ensure that that these obligations are met in event of his death, he shares the secret – along with a small book and ring – with his daughter, Alias. The Guardian's fears come true and he dies during the Crusaders' siege on Carcassone. Alias loyally takes up her father's duties to protect the Grail.
Eight hundred years later, Alice, a British archaeological volunteer at a dig in southern France, stumbles onto the secret society when she discovers a cave with two skeletons and labyrinth on the wall. From that point forward, she starts having strange dreams, believes like she's being followed, and feels threatened due to a series of events that take place around her or against her. Alice begins researching, putting together the pieces of the mystery that she fell into. Finally finding a few people to trust, Alice unfolds the mystery of the Grail…
Review: This book sat on my shelf for more than a few years (it was published in 2005 and I have a hardcover copy – that should give you an idea of just how long it's sat) before I picked it up just before Christmas. I was in desperate need of a book to read and I couldn't chose an e-book, as the little one steals my iPad every chance she gets. I'm glad I finally picked this one up. A little history, a little mystery and action, Labyrinth kept my attention from start to finish.
I think that the only thing that kept me from really loving this book was the discontinuity as Mosse flipped between Alias's story and Alice's. Don't get me wrong, I thoroughly enjoyed both story lines. However, because I became engrossed in each woman's tale, I was always a little disappointed when it was time to flip to the other story. In the beginning, this was much less noticeable. That was in part because the tales were just beginning, but also because the flip-flopping was less frequent.
Grade: B+