Book Review:
The Graceling Realms
By Kristin Cashore
A Graceling is a person who possesses a particular skill, a Grace, far surpassing the capabilities of ordinary people. This skill might be practical – such as cooking, fighting, math – or something paranormal, such as mind-reading. Gracelings are distinguished from an early age by their eyes: each eye a different color.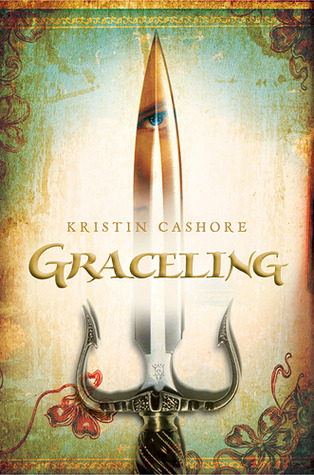 In the land of seven kingdoms, Gracelings are treated differently. In most kingdoms, Gracelings are offered up to the kings. If the king had a use for a particular Grace, the Graceling lived at the court, trained, and served the kingdom. If their Grace was not useful, they were sent home to lead a normal life, although they were often ostracized by their neighbors.
Graceling (published Oct. 2008): In Cashore's debut novel, Lady Katsa, niece to the king of Middluns, is graced with an unbelievable ability to fight. Trained by the royal guard, she becomes known as the king's thug, his enforcer. She is the one he sends to enforce his will or punish those who disobey him.
However, as Katsa grows older, she begins to use her Grace for good. She and a trusted group form the Council, under which they attempt to right the wrongs committed by monarchs across the seven kingdoms. After one of these such quests, she meets and befriends Prince Po of Lienid. Together, they embark on a long journey against Katsa's toughest adversary yet, an adversary she shouldn't have a chance against.
Spoiler: During this adventure, Katsa rescues 10-year old Princess Bitterblue of Monsea and falls in love.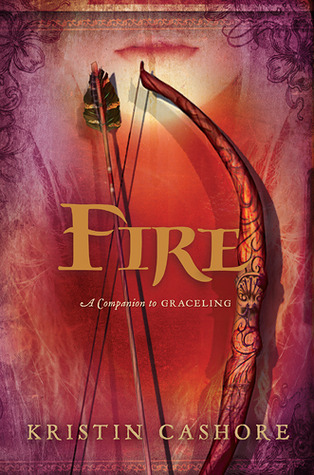 Fire (published Oct. 2009): The second book in the Graceling Realm series is sort of a prequel to Graceling. Only one character from the first book appears in Fire. The character does not play a huge role in the story but we do get a glimpse of his past, which is not detailed in Graceling.
The main storyline in Fire revolves around a monster named Fire. The only human monster left in Dells (the other monsters in the story are colorful, hypnotic animals, most with a taste for blood), beautiful Fire struggles to distinguish herself from her father's awful legacy. Like all monsters, Fire's presence is alluring. People are drawn to her, sometimes in attraction and other times in hostility. However, Fire's kindness and morality overcome her father's legacy of violence, cruelty, and selfishness as she embarks on a journey to help save the monarchy in Dells and limit the damages of civil war.
Bitterblue (written with Ian Schoenherr, published May 2012): Graceling ends. Fast-forward eight years. Bitterblue is queen of Monsea. Under her leadership, the kingdom is working to recover from life under Bitterblue's crazy, manipulative predecessor.
However, Bitterblue's advisers and subordinates are beginning to act strangely. She's unable to implement the programs she wants to. Her advisers are seen wandering the castle at odd hours. In an attempt to gain some space and freedom, Bitterblue begins sneaking out of the castle into the city. She becomes drawn by glimpses of the past, of unanswered questions. As her advisers act increasing odd and her new friends in the city are threatened, Bitterblue isn't quite sure what to do. Katsa, Po, and several other characters from Graceling are around to help Bitterblue out.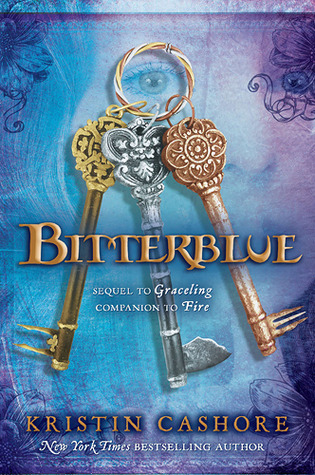 Review: One of the awesome things about my book club is that every one of us has a different taste in books. Graceling was chosen by an elementary school media specialist-librarian. For the third time, her pick was a success (see: Hunger Games and Life As We Knew It). I really enjoyed Graceling, so much that I couldn't wait for the second and third book to come from the library. Thank you, Nook.
Overall, this was a great series, a very quick, light read. After the second book, I was wondering if it was necessary to read them in order. I still think that the first two books can be flip-flopped, if really needed, but Bitterblue pulls the stories together beautifully. (Nope, not going to explain how Fire is tied in with Graceling. I don't want to spoil anything for you.)
Each of the three books has very similar themes: a little romance, fighting tyrants in the kingdoms (both living and after their death), overcoming perceptions… It sounds like the typical formula, but I was sucked in. The characters were fun and a little quirky. I especially enjoyed the strong female roles in the first two books.
I only had one complaint with these books. No, with one book, Bitterblue. There were parts of Bitterblue were the voice was wrong, the dialog a little off. The moments were few and far between, but there were definitely moments when I raised my eyebrows at something out of character (such as a "man," suck at the end of a sentence, something similar to a "come on, man"). I suspect this comes from the fact that the third book was co-authored, unlike the first two. A minor detail, but I hope that if Cashore continues on with the series, that she either writes new books herself or she/her editor pay closer attention to the changes in voice.
This was a great fantasy-ish young adult series that I'd definitely recommend. Because of the heavy dose of romance, the series had a more chick-lit feel to it, rather than fantasy. It's a great beach book.
Grade: A-