I bookmark a lot of recipes. A LOT. Way more than I ever get to make.
It's sad really. There are so many fabulous sounding recipes out there and because of time, energy, various dietary restrictions, general pickiness… I only get to try a small fraction of those that I bookmark, and often a long time after I bookmarked it. This recipe (and the last recipe I blogged) were both on my to-make list for over two years. It's such a shame that I am not able to spend more time in the kitchen because both recipes were winners in my book.
This blackberry coconut macaroon tart tasted amazing. I loved the coconut taste but I've never thought to pair a berry with it. The burst of freshness from the blackberry was refreshing, but, I'm happy to say, didn't outshine the wonderful coconut flavor. My only complaint about the tart was that it was very crumbly. I noted in the directions below where I'd add a little extra butter to help remedy the problem.
Since I've recently pulled two (fabulous) recipes buried deep within pages of bookmarks, I thought I'd ask whether there are any recipes that took you forever to make, that you loved once you did get around to making it? Are there any recipes that you've had bookmarked forever, and still haven't gotten around to making? Leave me a comment and let me know!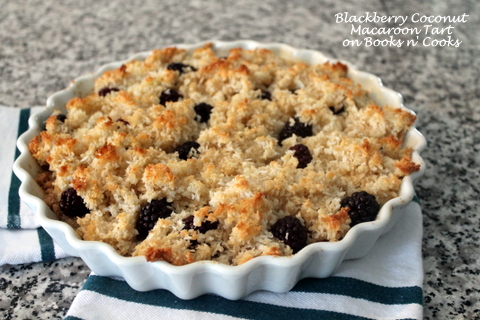 Blackberry Coconut Macaroon Tart
Adapted from Super Natural Every Day (by Heidi Swanson) via Smitten Kitchen
Makes 1 tart
Ingredients for the Crust:
 1 c. plus 2 Tbs. white whole wheat flour
1/2 c. plus 1 Tbs. unsweetened finely shredded coconut (I found it in the organic food aisle)
1/2 c. plus 1 Tbs. natural cane sugar (such as Sugar in the Raw)
Heaping 1/4 tsp. fine sea salt
6 Tbs. unsalted butter, melted (more if your dough doesn't come together)
Additional unsalted butter for greasing the pan
Ingredients for the Filling: 
1 1/2 c. unsweetened finely shredded coconut
6 Tbs. natural cane sugar
3 large egg whites
 6 oz. fresh blackberries
Make the Crust: Ensure a rack is positioned in the middle of the oven and preheat to 350°F. Line the bottom of a 9-inch round tart pan with a removable bottom with parchment paper. Generously grease the parchment paper and sides of the pan. 
In a medium bowl, stir together flour, coconut, sugar and salt. Stir in melted butter until well combined. If your crust is too dry, add 1-2 Tbs. more melted butter (add 1 Tbs. at a time). Press into prepared ban so that mixture firms a solid layer across the bottom, like shortbread.
Bake for 15 minutes, until lightly golden. Remove from oven and set aside to cool slightly.
Meanwhile prepare the topping. Stir together coconut, sugar and egg whites.
When crust has cooled slightly, scatter blackberries evenly over the crust. Using your fingers, dollop topping around and over blackberries. Make sure at least some blackberries remain at least partially uncovered.
Bake for an additional 20-25 minutes, until tart is golden brown. Remove from oven and cool.
Serve at room temperature.