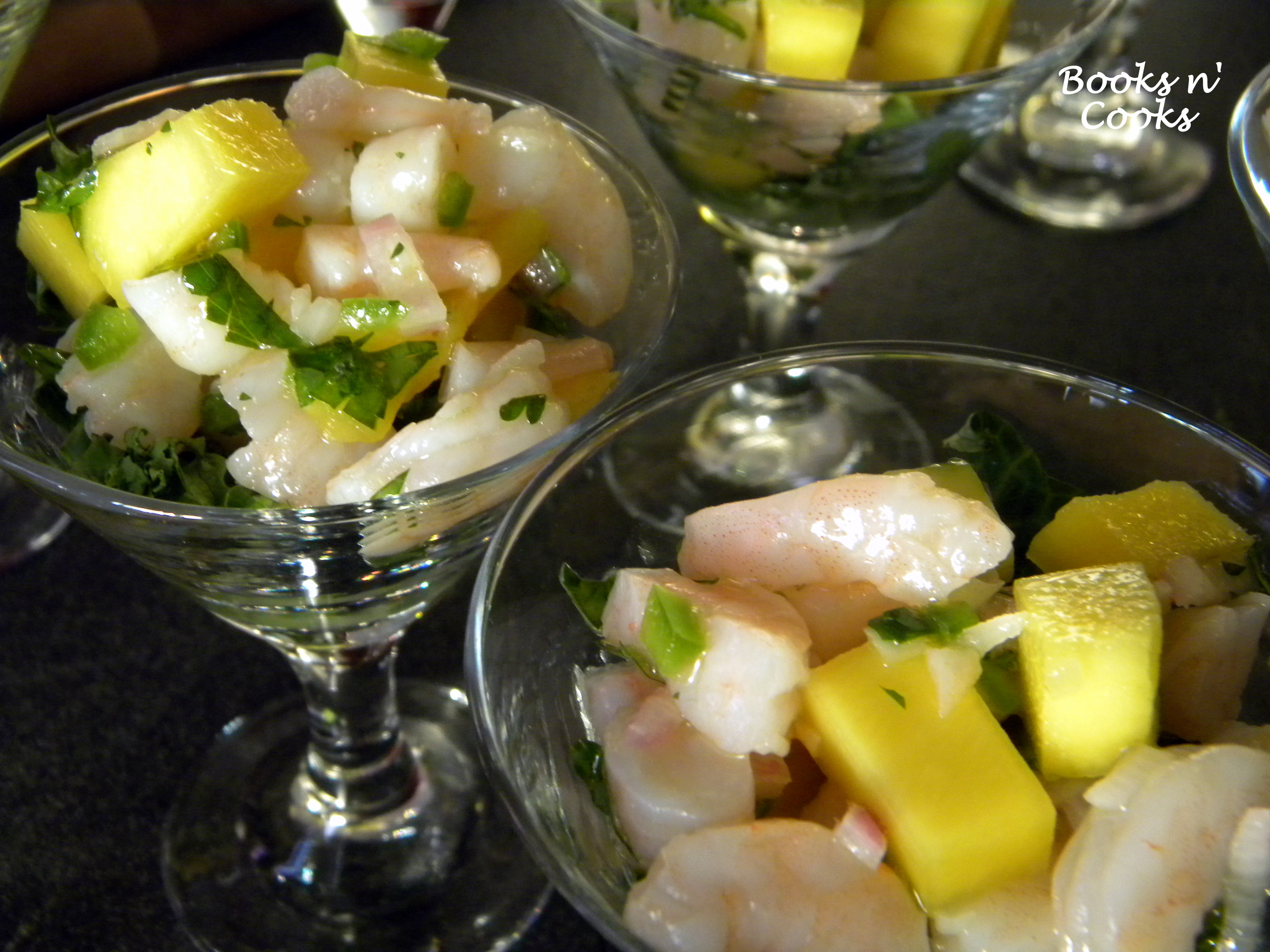 A while ago, I received a copy of Williams Sonoma's Cooking for Friends as a gift. Every month or so, I take out the book and look through it, my mouth watering at the delicious-sounding recipes and the incredible photos. However, some of the recipes are a little fancier than my crowd is used to, so alas, I never got around to making any.
For my birthday last month, I decided to raise the bar and fancied-things up, to include a recipe from this cookbook. Hubby and I had about 20 people over the house for cocktails. I went all out and made two birthday cakes (I couldn't decide which I wanted more and the vote to my friends was split), a cocktail, and three appetizers. Here's what the menu included:
Amaretto Sour with Prosecco
Almond Cake with Raspberry Layers & Amaretto Buttercream
Toffee Brownie Torte
Cheese-Stuffed Mushrooms
Shrimp-Mango Salad
Baked Fontina & French Bread
I was excited to try the shrimp-mango salad – a little fancier than the usual appetizer and elegantly served in these mini-martini glasses. Neither me nor my guests were disappointed. It was nice and light, tangy and sweet, the perfect addition to our cocktail party.
Modifications: I used all shrimp instead of a combination of shrimp and crab, as reflected in the recipe below. I skipped the avocado because mine didn't ripen in time (plus allergies).
Shrimp-Mango Salad
Adapted from Shrimp, Crab and Avocado Salad in
Williams Sonoma's Cooking for Friends (p. 62)
Makes 12+ servings in mini-martini glasses
Ingredients:
1 lb. cooked fresh shrimp, diced (or combination of fresh cooked crab and shrimp)
1 mango, diced
1/4 c. extra-virgin olive oil
1/4 c. rice wine vinegar
1/4 c. fresh lime juice
1/4 c. cilantro, minced (plus sprigs for garnish)
1 jalapeno, minced
1 shallot, minced
sea salt
ground black pepper
1/2 head butter lettuce, shredded
1 avocado, diced
lime wedges
In a medium bowl, toss the mango, olive oil, vinegar, lime juice, cilantro, jalapeno, and shallot until mango is coated. Season with salt and pepper. Add shrimp (and crab), tossing until coated.
In your serving glasses, line the bottom with some of the butter lettuce, followed by the mango-shrimp mixture. Top with avocado (I would have tossed it in with the mango and shrimp at the last minute) and garnish with lime slices and sprigs of cilantro.