Today kicks off a weeks worth of #MexicanRecipes. Below is a handful of recipes to help inspire you for next weekend's Cinco de Mayo festivities, followed by what's currently my favorite recipe for Beef Tacos – easy to make, easy to scale for entertaining.

Happy #MexicanRecipes
Let's have a fiesta of Cinco de Mayo inspired recipes all week long!
Check back each and every day for new recipes by following along with the hashtag #MexicanRecipes on social media.
Are you a food blogger interested in posting within our blogging community? Find out more by joining us online: Holiday Fun with Our Blog Friends.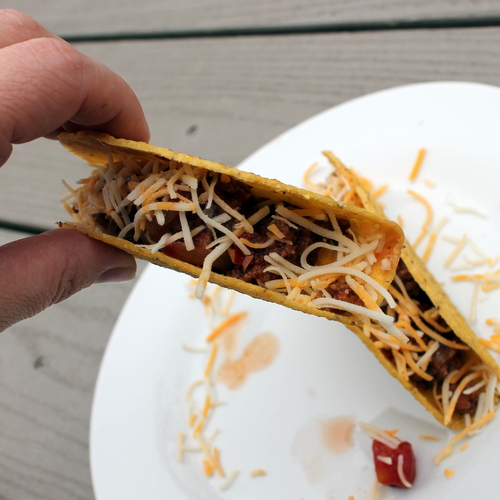 Over the past couple of years, my husband has gotten really into dorky board games. The kind that take a while to set up, a long time to read and learn the rules, and sometimes a long time to play. I enjoy some of the games (I love playing Pandemic Legacy with friends, and am really into the collaborative version of Orleans) but I don't play often enough to want to learn a lot of new games. My hubby is the opposite and would play a different game every night if he could.
My hubby has been getting his fill of board games with twice monthly board game nights. We host about half of the time, and the group that is coming seems to get larger every time. It's made entertaining a bit of a challenge – a large group on a work night. I need something that can either be made a day before and reheated or is crazy quick to prepare in large quantities. With the warmer weather, chili no longer seems like the best choice. We've been grilling some, but these beef tacos are great for the spring rainy nights. The meat mixture is easy to make, easy to scale, can be made ahead and reheated the day of on the stove or in the slow cooker, and can be frozen or reused in other Mexican recipes (burritos, burrito bowls, and quesadillas) during the week if we have leftovers. We love the flavor (not spicy at all) and I love the hidden bell pepper for a little extra veggie.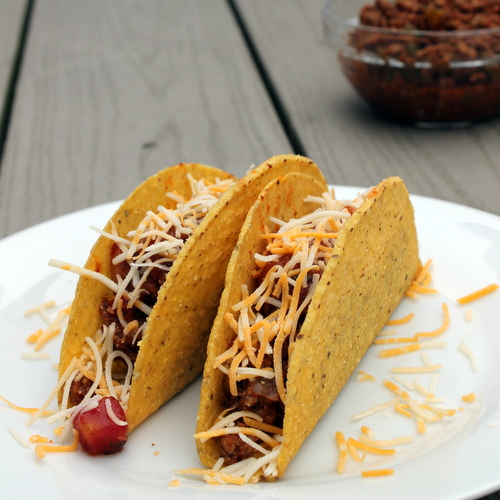 Beef Tacos
Adapted from SkinnyTaste Fast and Slow (p. 139)
Serves 4
Ingredients for the Taco Meat:
1 lb. lean ground beef
1/2 onion, finely chopped
1/2 bell pepper, finely chopped
1 clove garlic, minced
1 1/2 tsp. ground cumin
1 tsp. chili powder
1 tsp. paprika
1/2 tsp. dried oregano
1 tsp. kosher salt
1/2 tsp. black pepper
1/2 c. tomato sauce
Tacos:
Hard or soft taco shells
Choice of toppings: shredded lettuce, tomatoes, cheese, salsa (we like homemade salsa), sour cream, guacamole
Make the Taco Meat: In a large skillet over medium heat, brown ground beef, breaking it up into small pieces. When mostly browned, drain out extra fat at the bottom of the pan. Return to stove and add onion, bell pepper and garlic. Cooking until remaining beef is browned and vegetables are softened, about 5 minutes.
Add remaining ingredients – herbs, spices, and tomato sauce. Stir well. Lower heat and cook, stirring occasionally, on low for 15-20 minutes, until warmed throughout.
Serve hot with desired taco shells and toppings. Or, use in burritos, burrito bowls, or quesadillas.
Recipe Notes: Taco meat may be frozen for use later. It can also cook throughout the day in a slow cooker (6-8 hours on low, or 3 on high) if prepared in the morning, or is being reheated.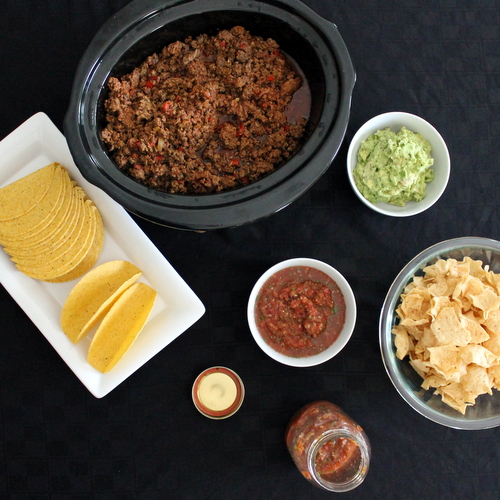 Save
Save