November was supposed to be a quiet month for me. October was crazy but November was completely open. It was supposed to be a chance for me to relax and recharge before the Christmas holiday season kicked into gear.
As hard as I tried to keep the month open, my plan didn't really work out. I'm not even completely sure how the month got so busy, or what, exactly, we did. We had a houseguest for a couple days, that we didn't previously plan, but I think that other than that, it was just very busy with some long days (including weekends) at work, a week of sick kiddos, and struggling to keep up with housework. As the month ended, I ended up feeling more exhausted than refreshed.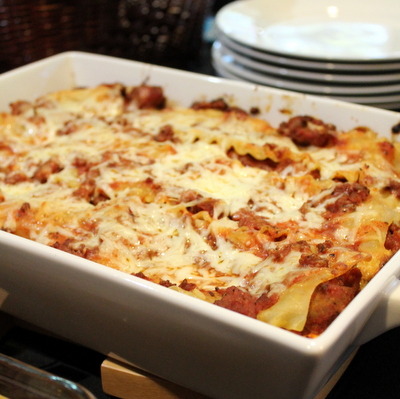 The crazy month is why this recipe has taken a bit longer than I wanted to post. This lasagna is a go-to recipe for me, particularly for cooler weather and large-scale entertaining. While it is a good bit of work (it probably takes an hour or so to put together), it has 3 qualities that make it a favorite.
1) It can be made in advance and refrigerated or frozen.
2) It makes a huge dish and can easily serve 8-12 people. Or, it makes a lot of leftovers for weekday lunches or busy weeks when leftovers are all that we have for dinner.
3) Everyone loves it.
Unlike a lot of other lasagnas, it's light on the cheese and full of meat. Also a little different from other recipes, I added a few extra layers – for a total of 4 layers of noodles – as we like a nice, thick slice.
This recipe has been heavily adapted from my mom's old Good Housekeeping cookbook, Step by Step.
Make Ahead: This recipe can be made in advance, wrapped tightly in plastic wrap, and frozen for at least a couple of months. Lasagna should be allowed to defrost completely (about 2 days in the fridge) before baking according the the instructions below. If lasagna isn't completely thawed, keep covered and bake until lasagna is hot throughout, before removing foil and cooking uncovered for the last 15 minutes.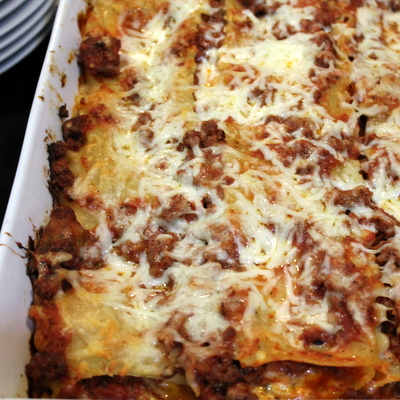 Beef & Sausage Lasagna
Makes one large (9×13) lasagna
Serves 10
Ingredients:
1-16 oz. package lasagna noodles
1/2 lb. lean ground beef
1/2 lb. spicy Italian sausage, casings removed
1/2 lb. mild Italian sausage, casings removed
1 medium onion, small dice
1 Tbs. minced or crushed garlic
1 28-oz. can crushed tomatoes
2 Tbs. tomato paste
1 tsp. kosher salt
1 tsp. granulated sugar
1 Tbs. Italian seasoning
2 Tbs. dried basil
1-15 oz. container part-skim ricotta cheese
1 large egg
1/4 c. fresh Italian parsley
2 c. (8 oz.) shredded part-skim mozzarella
1/4 c. grated Parmesan cheese
Preheat oven to 375F.
Make the Meat Sauce: In a large skillet over medium heat, brown ground beef and both sausages, using a wooden spoon to break up any large chunks. Add onion and garlic, and continue to cook until translucent. Discard any excess fat, and add crushed tomatoes, tomato paste, kosher salt, sugar, Italian seasoning, and basil. Stir to combine. Bring to a boil and lower heat, simmering for 30 minutes.
Meanwhile, cook noodles according to package. When done, use tongs to remove noodles from water and lay noodles flat on a clean dishtowel on the counter. Allow to cool until you're able to handle them with your hands.
Make the Ricotta Layer: In a medium bowl, combine ricotta, egg and parsley.
Assemble the Lasagna: On a clean countertop, line up meat sauce, lasagna noodles on the towel, ricotta, a small bowl filled with the shredded mozzarella, and a large (9×13 at least) baking dish. It will make assembly easier and cleaner if everything is in one single work area.
First, spread a couple of spoonfuls of the sauce (I like to avoid the meat chunks for the bottom later) across the bottom of the baking dish, so that lasagna noodles don't stick. Next, add a layer of lasagna noodles, followed by one-third of the ricotta, about 1/2 c. of the mozzarella, and about a quarter of the meat sauce. Do this two more times, so that you have 3 complete layers.
Add the final layer of lasagna noodles. If you have extra ricotta, you can add it here. Otherwise, top with remaining meat sauce, remaining mozzarella, and the grated Parmesan cheese. Feel free to add a little extra of either or both cheeses, if lasagna is not sufficiently covered.
Bake in preheated oven covered with aluminum foil for 30 minutes. Remove foil and bake for another 15 minutes, until sauce is bubbly and cheese is melted and starting to brown. Remove from oven and allow to stand for 15 minutes before serving.
Serve hot with a side salad and your favorite fresh bread or garlic bread.
Save
Save
Save