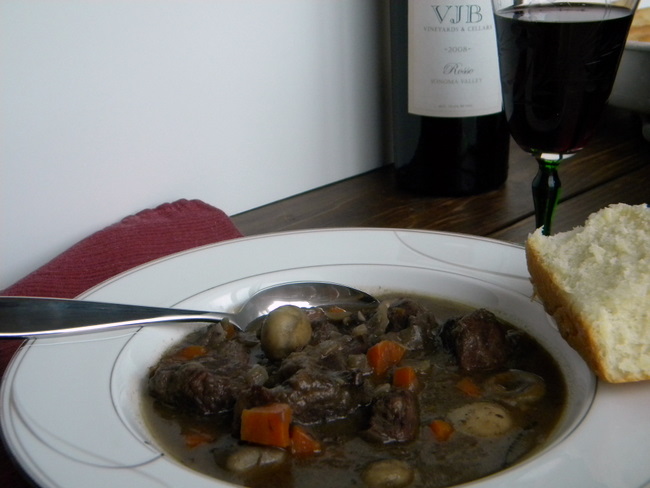 When Borders was closing, I stalked the cookbook section, hoping that the cookbooks for my favorite chefs would end up dirt cheap. No such luck – they sold out long before that point, but I did score one major find. Borders had William Sonoma Cooking at Home marked for to $7, and then an extra 30% on top of that. The book didn't have any photos, which I normally want in a cookbook, but I had heard such great things about WS recipes that I knew this was a good investment. No, a fabulous investment.
So far, I've only made a couple recipes from it – country fried chicken, buttermilk dinner rolls (recipe coming up) and this beef bourguignon recipe. I think I have a new favorite cookbook. This beef bourguignon blew me away. I've made it twice over the past month, a pretty big statement when it takes a good 4 hours from start to finish. The flavors were outstanding. I felt so warm and cozy while eating it, I kept expecting to see snow on the ground!
Recipe Notes: I skipped the salt pork called for in the recipe. I used it the first time, because everything was supposed to be fried in the fat rendered from it. However, the brand I got (Hornell) yielded no fat. In the below, I replaced the pork fat with Crisco and liberally salted the dish with kosher salt before baking it. (If you want to use it, fry pork fat until fat is rendered. Remove fat from pan and set aside. Fry veggies and beef in fat. Sprinkle fried salt pork on top of dish upon completion.) I also skipped the 1/4 cognac (to deglaze pan) and simply used some of the red wine, as we don't usually keep cognac in the house. Finally, I skipped out on the pearl onions (saute 18-24 peeled pearl onions in an extra 2 Tbs. of butter, and add to dish at the same time as the mushrooms if you'd like to include them).
Beef Bourguignon
Adapted from Williams Sonoma Cooking at Home p. 274
Yields 6 servings
Ingredients:
Crisco
8 shallots, minced
2 yellow onions, diced
2 carrots, peeled & diced
2 clove garlic, minced
2 c. all-purpose flour
nutmeg
kosher salt
fresh ground black pepper
3 lb. beef chuck, cut into 2-inch cubes
2 c. beef broth
2 sprigs fresh thyme or rosemary
3 c. dry red wine
1 bay leaf
3 Tbs. unsalted butter
2 Tbs. sugar
1 lb. white or cremini mushrooms
chopped fresh flat-leafed parsley, for garnish (optional)
Instructions:
Heat 2-3 Tbs. Crisco in a large cast iron sauce pan over medium-high heat. Add shallots, onions, carrots, and garlic. Sprinkle with a generous teaspoon of kosher salt and saute until soft.
While veggies are cooking, combine flour, nutmeg, 1/2 tsp. salt, and 1/2 tsp. pepper in a bowl. Coat beef with flour mixture, shaking off the excess.
When veggies are soft, move to a plate with a slotted spoon, leaving as much of the grease as possible. In batches as not to overcrowd meat, brown the beef on all sides. Add more Crisco if needed. When browned, use a slotted spoon to transfer to a waiting Dutch oven.
Add 1/2 c. of the wine to the pan and deglaze, stirring with a wooden spoon to get up the bits at the bottom of the pan. Add deglazing liquid, the remaining 2 1/2 c. wine, the beef broth, and thyme/rosemary to the Dutch oven with beef.
Move Dutch oven to stove burner still set to medium-high heat and bring to a boil. Simmer on the stove or in an oven preheated to 324F for 2 1/2 hours.
At the 2 hour mark, start preparing the mushrooms. Clean and trim stems, if you haven't done so already. Melt 3 Tbs. butter in a skillet over medium heat. Add mushrooms and cook until browned, about 5 minutes.
At the 2 1/2 hour mark, add mushrooms to beef. Cook for another 30 minutes.
Remove from oven. Discard thyme/rosemary springs and bay leaf. Sprinkle with parsley and serve hot with crusty bread.
Preparation time: 4 hours
Cooking time: 3 hours