This BBQ Chicken & Veggie Pasta Salad is a highly flexible dish perfect for lunch prep. Pair with a side of fruit for an easy and balanced lunch.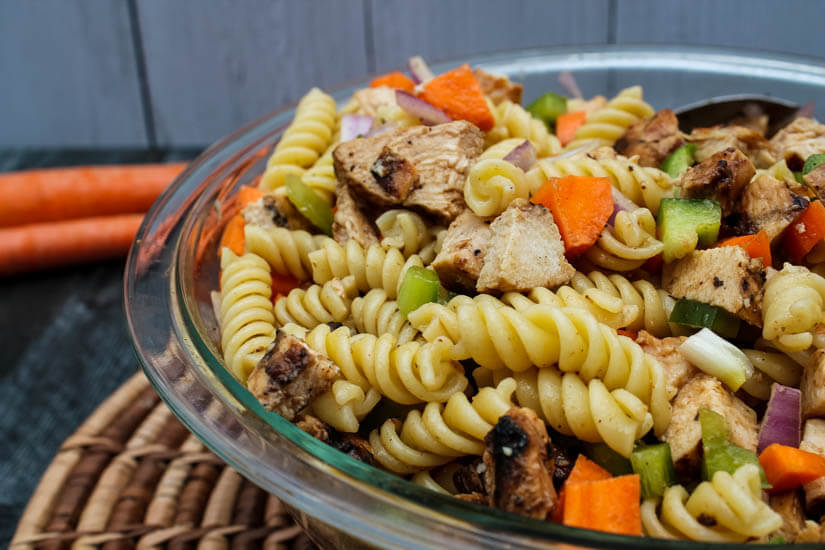 I was never much of a sandwich eater growing up. It made lunches difficult. Every once and a while, I'd enjoy a peanut butter sandwich (chunky peanut butter, no jam or jelly, cut into triangles) but for the most part, I struggled with lunches that I'd enjoy.
Even now, I don't love a sandwich. I'd rather have a wrap. But either way, I enjoy a handheld much more if it's freshly made. Same goes for salad. So lunches for me tend to be a lot of leftovers. But when I'm really on my A-game, I lunch prep. I like a good, all-in-one dish that gives me my carb, protein, and a fruit and/or veggie. Chicken Fried Quinoa is one of my favorite go-to recipes. And I always enjoy an Italian Antipasto Pasta Salad (which also happens to be great for cookouts).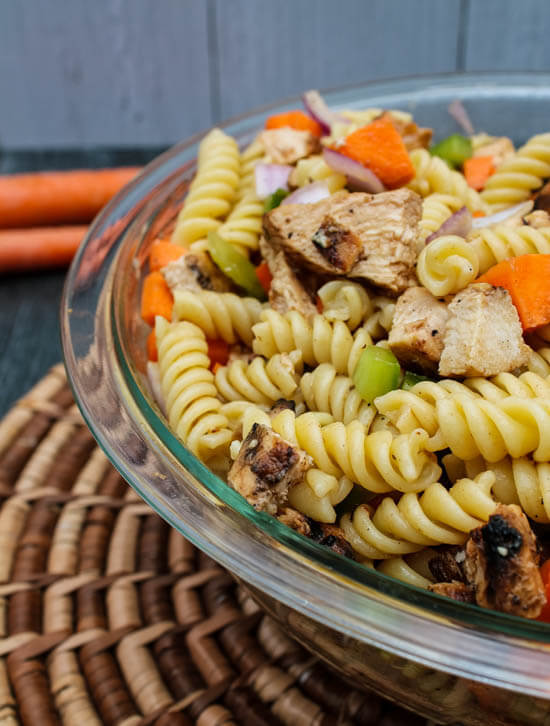 But today's BBQ Chicken & Veggie Pasta Salad is a old family "recipe." It's not much of a recipe. It's mostly just tossing some veggies and grilled chicken with pasta and lightly dressing with an Italian or balsamic dressing.
Recipe Notes:
The quantities in this recipe are very flexible. Add more or less of any of the below to your liking.
Pasta: I always make this with spiral pasta (rotini) but you can use whatever you'd like. Growing up, we always had tri-color spiral pasta.
Veggies: Use what you enjoy. For this recipe, I used 1/2 c. red onion, about 1 1/2 c. diced carrots, and 1 c. bell pepper. Raw broccoli also goes well in this salad.
Chicken: You really can use any cooked chicken here, but grilled BBQ chicken – either breasts of thighs – adds a lot more flavor than a rotisserie chicken.
Dressing: My mom always made this with Good Seasoning's Italian Dressing, but I used Ken's Light Balsamic. I recommend keeping the bowl of pasta salad lightly dressed and adding extra if needed just before serving.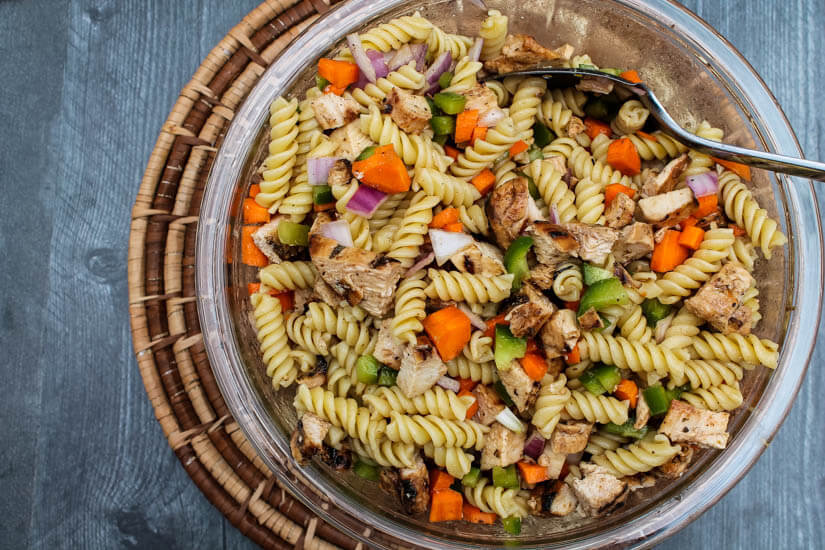 Don't forget that this month – as I've done every August for the past few years – is all about the lunches, here at Books n' Cooks. Timed with the start of the new school year, I've got an assortment of lunch recipes to make lunch time more exciting. Whether you're packing your lunchbox, your kid's lunchbox, or coming up with lunch prepared at home, many of my blog posts this month are new recipes for this mid-day meal.
And if you're not following me on Facebook, head on over and check out the Books n' Cooks page. Every day this month, I'm sharing recipes meant to shake up your lunch routine – from handhelds to salads, and a few fun snacks and sweets thrown in.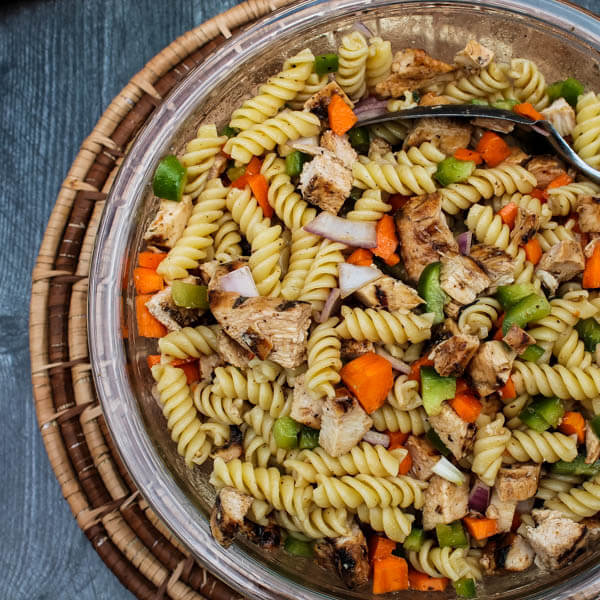 Print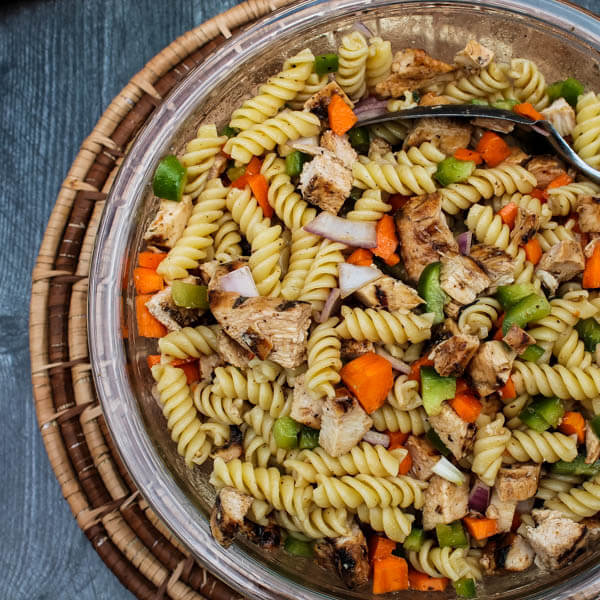 BBQ Chicken & Veggie Pasta Salad
This BBQ Chicken & Veggie Pasta Salad is a highly flexible dish perfect for lunch prep. Pair with a side of fruit for an easy and balanced lunch.
Ingredients
3/4

lb.

spiral pasta

cooked

3-4

c.

mixed raw veggies, diced small

(red onion, carrot, bell pepper, broccoli)

3-4

c.

diced grilled BBQ chicken

1/2

c.

Italian or balsamic salad dressing

more as needed
Instructions
Mix all ingredients in a large bowl. Taste, adding more dressing if desired.

Serve immediately or refrigerate until serving. Pasta salad may be served cold, hot, or at room temperature.
By Books n' Cooks