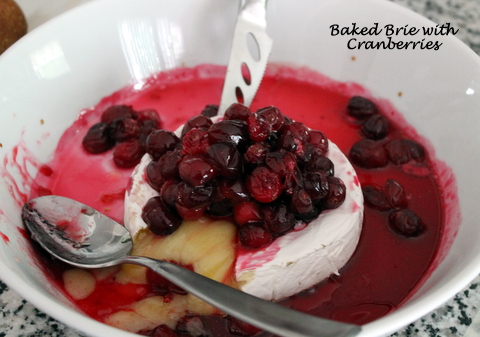 Every November, I stock my freezer with fresh cranberries that begin to appear in the grocery store. Usually, I use them to make a cranberry pear tart, or some muffins, whenever the mood strikes. I tend to forget about this appetizer, which I first had back in college. I wish I had gotten a photo before we dug in. This brie, my contribution to the 12 Weeks of Christmas Treats hosted by Meal Planning Magic, is a wonderful, seasonal, appetizer for the Thanksgiving of Christmas season.
Make Ahead: The cranberry mixture can be made earlier in the day. Top brie and bake just before serving.
Baked Brie with Cranberries
Serves 4-6
Ingredients:
1/2 c. triple sec
2 Tbs. light brown sugar
1 c. fresh or frozen cranberries
1-8 oz. wheel of brie
Preheat oven to 400F.
In a small saucepan, combine triple sec, brown sugar and cranberries over medium heat. Cool, stirring occasionally, until cranberries have burst.
Place brie in an oven-safe serving dish. Top with cranberries mixture. Bake until brie has softened, 10-15 minutes.
Serve hot, with fresh bread or crackers.