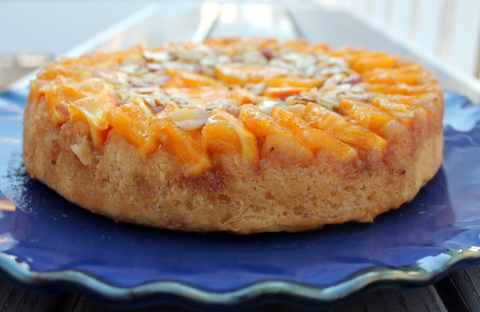 When the February/March issue of Fine Cooking came out, I was immediately drawn to the series on upside-down cakes. Despite being afraid of caramel, I knew that I had to make one of the cakes… the problem was, which one? I settled on the below Orange-Almond Upside-Down Cake but even before I made it, I had to know how the other ones would turn out. I invited my amazing sister-in-law, Lauren, over at Live, Dine, Party to bake one of these cakes along with me.
Lauren started her blog last year to chronicle her adventures in a new home, cooking, and entertaining. Lauren comes from a long line of amazing Italian cooks (ahem, Lauren, you still owe me a ravioli lesson!) and it shows in her food. Today, she's sharing with you a Cranberry Streusel Upside-Down Cake. I know I just made this cake (two days ago, in fact), but I think Lauren has convinced me to dig that bag of frozen cranberries out of my freezer to give her version a shot.
While Lauren has me drooling over her cake, I was pleased with how my Orange-Almond Upside-Down Cake came out. It was one of the few desserts that I have made that was *really easy* to make look really pretty. I walked by it several times, trying to convince myself that I could dig in. But alas, I brought the cake, untouched, to work. Visually, the cake was impressive. And it tasted fantastic. The almond with the sweet burst of orange juice and the slight bitterness of the peel was an unexpected combination.
Prep Note: There's a fair bit of prep to this recipe. I don't mean hours of baking and resting, but a couple extra steps that are best done ahead of time (like toasting and grinding almonds) to make the assembly go quicker.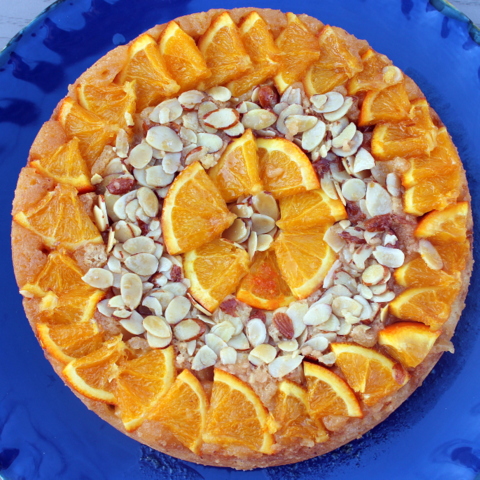 Orange-Almond Upside-Down Cake
Adapted from Fine Cooking No. 127 (p. 82)
Makes one 9-inch round cake
Ingredients for the Topping:
4 Tbs. unsalted butter, plus more for pan

2/3 c. granulated sugar

3 small oranges

1/2 c. slivered almonds
Ingredients for the Cake: 
2/3 c. slivered almonds
8 Tbs. unsalted butter, at room temperature
2/3 c. granulated sugar
1 tsp. almond extract
2 large eggs, at room temperature
1 1/2 c. all-purpose flour
2 tsp. baking powder
1 tsp. kosher salt
1 c. sour cream, at room temperature
Prep Work:
Preheat oven to 350 F. Toast the almonds for the cake (2/3 c.) for about 5 minutes, until golden brown. Let cool on baking sheet before pulsing in a food processor until finely ground.
Butter a 9-inch round cake pan. Line the bottom with parchment paper and butter again. Set aside.
Zest and juice 1 orange (or, if using large oranges, half an orange). You need 2 tsp. orange zest and 3 Tbs. freshly squeezed orange juice. Set aside.
Slice the remaining 2 oranges, as thin as you can get them. Discard ends. Then cut each slice into quarters. Set aside.
Make the Topping:
In a medium-sized pot, combine butter and sugar over medium heat. Stir occasionally, until caramel is just slightly darker in color than peanut butter. Watch carefully – I have a bad habit of ruining caramel by overcooking it. 🙂 When mixture is a light brown, slowly add orange juice. Stir until bubbling stops and orange juice has been completely incorporated, about 30 seconds. Remove from heat and pour immediately into the prepared pan. Allow to sit until cool enough to touch, about 5 minutes.
When cake is cool, arrange orange slices in caramel. Fill in extra spaces with slivered almonds.
Make the Cake:
In the bowl of a stand mixer fitted with the paddle attachment, cream butter and sugar until light and fluffy, about 5 minutes. Scrape down sides of the bowl and add orange zest and almond extract until just combined. Scrape down sides of the bowl again and add eggs, one at a time. Add ground almonds, baking powder, and salt. Add half of sour cream, then half of flour. Add remaining sour cream and remaining flour, scraping down sides and bottom of the bowl as needed.
Pour batter into pan. Even out top with a spatula, taking care not to disturb the orange and almond slices.
Bake for 40-45 minutes, until a toothpick inserted into the center comes out clean. Remove from oven and set on a wire rack to cool for 10 minutes. Run a knife around edges of pan to loosen, and invert onto a serving cake and remove from pan. Allow to cool completely.
Serve hot or at room temperature.