Salty bacon, zesty ranch and crunchy pecans make this Bacon Cheddar Ranch Cheeseball a hit.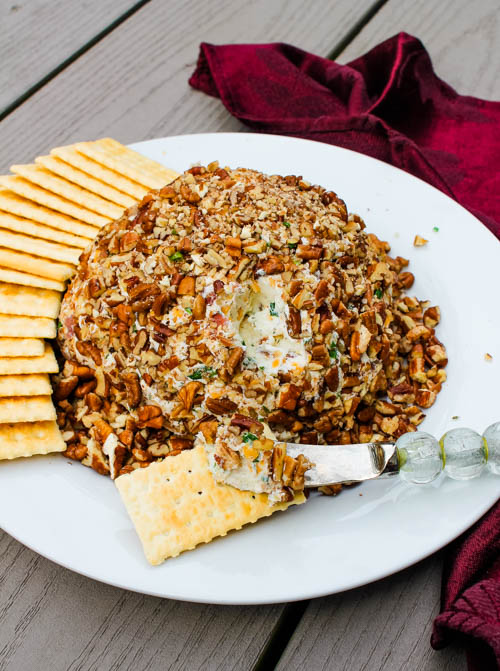 Where has November gone? I always feel like the last two months of the year pass more quickly than others, and of course, are always packed with fall and winter activities, shopping, entertaining and family… but this month has been way crazier than previous years.
We took a long weekend and went to visit some family. It was a quick trip, but between traveling with little kids and having that travel take more than half a day each way, it was a bit exhausting. The few days were a whirlwind of visits and activities. While it was a great weekend, I totally came home feeling like I needed a day to recover from my vacation.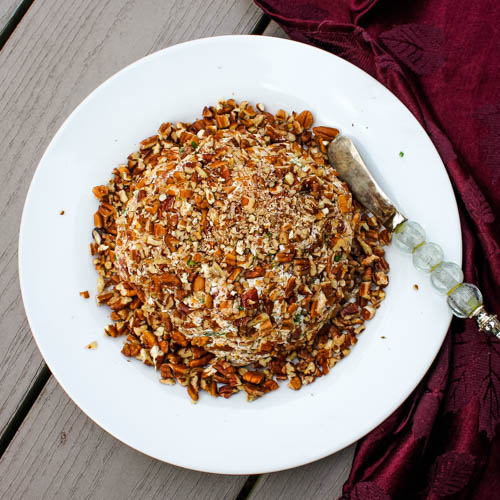 After that quick trip, I was finally starting to feel settled again when my husband took off for a work trip. With our new school/childcare schedule, that meant really short workdays for me – always fun when you're doing two jobs at once and training someone new coming in. The kids were really good though, and I kept the cooking to a minimum. Sandwiches for lunch, leftovers for dinner. And maybe a little take out. I actually do get into a good routine when my hubby is gone, and amazingly, I'm usually able to keep the house cleaner when he's away (think that is saying something? 😉 ).
And this week is a full house. My mom is here all week, helping with childcare while schools are on short days or closed. But we've had family trickling in throughout the week for Thanksgiving. By tomorrow, I'll have 4 kids under the age of 6 and 14 adults in the house for the big day. What are your plans?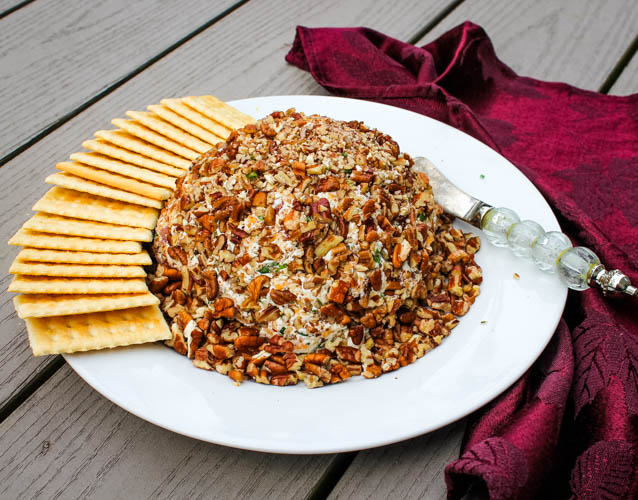 This Bacon Ranch Cheddar Cheeseball isn't on the menu for Turkey Day, but may be making another appearance during the holiday season (perhaps at our holiday party?). The cheddar and ranch flavors were light but enjoyable. I loved the crunch from the pecans and the saltiness from the bacon. I used the homemade ranch seasoning that I shared earlier this week in this recipe, but you can totally use a store bought packet if you prefer. My husband – the ranch lover of the family – LOVED this recipe, so I know that I'll be making it again soon. (I do think it would be a great addition to a game day spread, don't you?)
Happy Thanksgiving!
Print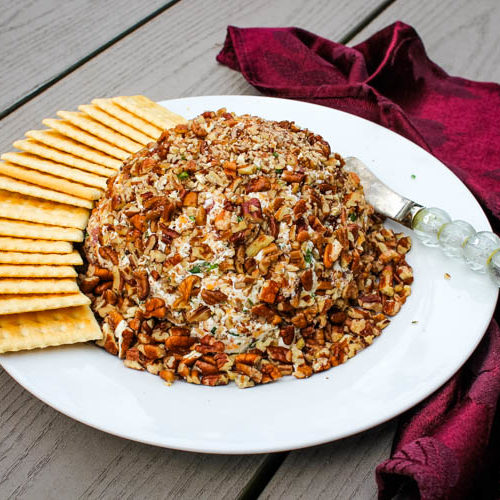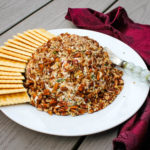 Bacon Ranch Cheddar Cheeseball
Salty bacon, zesty ranch and crunchy pecans make this Bacon Cheddar Ranch Cheeseball a hit.
Ingredients
16

oz.

cream cheese

softened

1

c.

shredded sharp cheddar cheese

1

c.

cooked and chopped bacon

(about half a 12-oz. package, cooked)

2

Tbs.

ranch seasoning mix

1/4

c.

chopped scallions

3/4

c.

finely chopped pecans
Instructions
Combine cream cheese, cheddar, bacon, ranch seasoning and scallions in the bowl of a stand mixer (or a large mixing bowl, if you prefer to use a handheld mixer). Beat on medium speed until combined, scraping down sides of bowl as needed.

Turn out onto a piece of plastic wrap. Shape into a ball.

Spread chopped pecans in a shallow bowl or on a plate. Remove cheeseball from plastic wrap and roll in pecans until covered. Transfer to a serving dish. Add extra pecans to the dish, if desired.

Refrigerate, covered, for at least an hour before serving.
Recipe Notes
The original recipe called for 1 c. of chopped pecans, but I had quite a bit leftover, as you can see from the photos (and why it looks a bit more like a dome than a ball!). Therefore, I adjusted the portion called for slightly, so that there isn't as much leftover.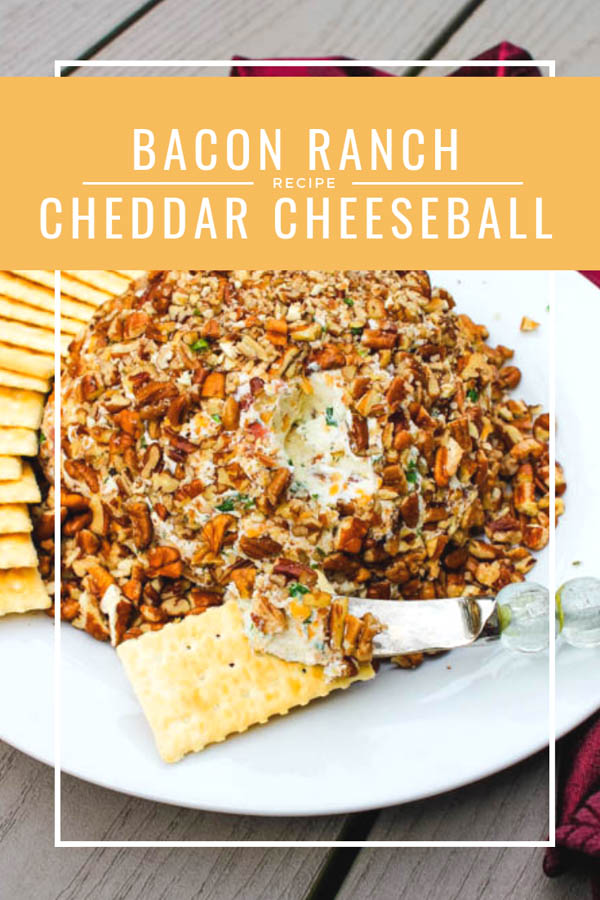 This recipe was adapted from Chef-in-Training.