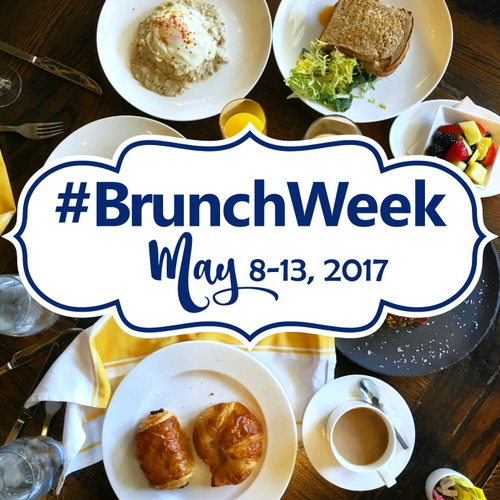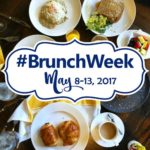 This post is sponsored in conjunction with #BrunchWeek. I received product samples from sponsor companies to aid in the creation of the #Brunchweek recipes. All opinions are mine alone.
In case you've forgotten, or are visiting for the first time, I want to remind you that our generous sponsors have donated some amazing prizes for #BrunchWeek readers. There are more than a few prizes to get excited about – high quality food from our sponsors, gift cards, gift sets that include marble pastry boards and slate cheese boards… Seriously good prizes. Head over, check out the details and enter to win, here.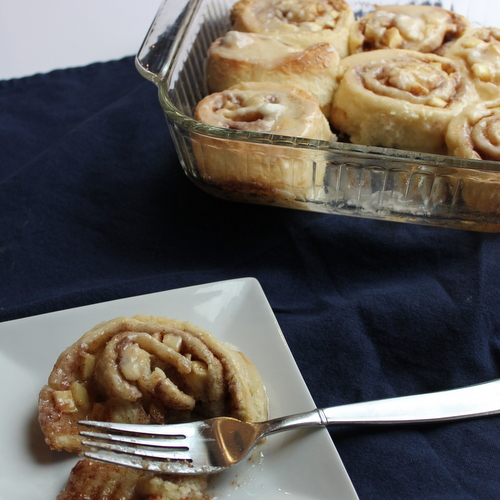 So glad today is Hump Day, because this week has been a bit rough already. First off, I have all of these amazing #BrunchWeek recipes to remind me that instead of being in the kitchen whipping up breakfast pastries and savory eggs dishes, I'm stuck behind a computer, at a desk without a window all day long. But work has been a bit of a doozy too. I started off yesterday with great intentions of actually crossing things off my to-do list, and I accomplished not one of those things. Constant disruptions, surprises (and not the good ones) and travel between meetings meant that I actually got very little accomplished. Today is so packed that I'm not going to get much done either.
So with this start to the week, it should be no surprise that I'm already looking forward to the weekend, which is blissfully empty of any real plans. If the weather cooperates, we'll probably go to the zoo with the kids and some good friends, but right now, I'm loving the fact that we can be bums on the couch all weekend if we want to. Maybe I'll be able to try out one of the recipes I've bookmarked this week? Maybe even one of the oh-so-tempting pastry recipes from a fellow #BrunchWeek blogger.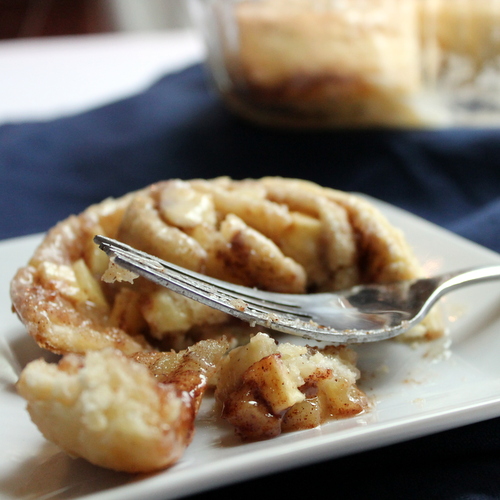 In my house, sweet breads and pastries are an indulgence, and rarely make an appearance. It's not that we don't love them – we do! But we tend to show little self-restraint around these goodies. This small-batch recipe for apple cinnamon buns disappeared quicker than I would like to admit. Between the sweet apple-cinnamon sugar filling and the vanilla glaze, it was hard to stay away.
Apple Cinnamon Buns
Dough from Joy the Baker; Filling & Glaze by Books n' Cooks
Makes 6-8 Cinnamon Buns
Ingredients for the Dough:
1/2 c. whole milk
2 Tbs. unsalted butter
2 Tbs. Dixie Crystals granulated sugar
1 packet Red Star Platinum Baking Yeast
1 1/2 c. all-purpose flour, divided
1/4 tsp. salt
1 large egg yolk
Ingredients for the Filling:
4 Tbs. unsalted butter, melted
1 Tbs. unsalted butter, softened
1/4 c. Dixie Crystals granulated sugar
1/2 tsp. cinnamon
pinch of salt
1 Lady Alice apple (or other favorite sweet apple), medium-dice
Ingredients for the Glaze:
Make the Dough: In a small saucepan over medium heat, combine milk, butter and sugar. Stir occasionally, until sugar has dissolved, butter has melted, and mixture is hot. Remove from heat and allow to cool, until mixture is warm (110-115F). Add yeast, stir, and let sit for 5 minute to activate. Mixture should begin to foam.
While milk mixture cools, whisk together yeast, flour and salt. Add egg yolk and milk mixture, stirring with a wooden spoon to incorporate. If dough appears too wet, add flour a little at a time. In the bowl, kneed dough a few times, scooping up any extra flour in the bowl and bringing dough together. Cover bowl with plastic wrap and allow to rest for 10 minutes, while preparing filling.
Prepare the Filling: Combine sugar, cinnamon and salt in a small bowl. Set aside.
Dice apples, if you haven't done so already.
Assemble the Cinnamon Buns & Bake: Preheat oven to 350F.
On a lightly floured surface, roll out dough into a 9×12 inch rectangle. Brush with butter and sprinkle with cinnamon-sugar. Spread apple pieces evenly over dough.
Tightly roll dough at the longer edge into a coil. Slice into pieces 1 1/2 to 2-inches thick.
Grease a 8×8 or 9×9 baking pan with remaining 1 Tbs. softened butter. Place cinnamon buns in prepared pan, with about 1/2 and inch between them, and cover tightly with plastic wrap. Set in a warm place (I put mine by the oven that is preheating) and allow to rise for 30 minutes.
Remove plastic wrap and bake for 20 minutes, until cinnamon buns are golden brown and puffed up. Remove from oven and cool slightly.
Last Step – Glaze! In a small bowl, whisk together sugar, softened butter and vanilla extract. Add water, 1 Tbs at a time, until glaze reaches desired consistency. Mine was thick and spreadable, but melted into gooey deliciousnes when spread over still hot cinnamon buns.
Serve immediately, while still hot. Cinnamon buns can be stored in an airtight container or wrapped slightly for 24 hours, but are best when fresh.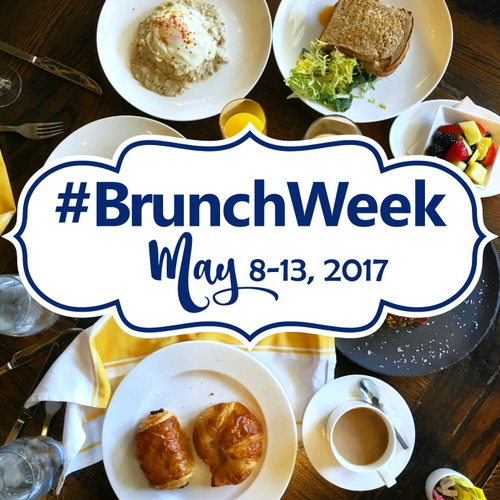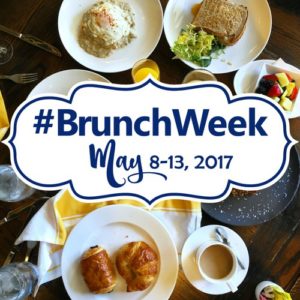 Take a look at what the #BrunchWeek Bloggers are creating today!
BrunchWeek Beverages:
Pineapple Citrus Smoothie from It Bakes Me Happy.
Southern Spiked Mango Iced Tea from The Crumby Cupcake.
BrunchWeek Egg Dishes:
Cheddar Asparagus Mini Quiche from Amy's Cooking Adventures.
Goat Cheese and Asparagus Breakfast Souffle from Palatable Pastime.
BrunchWeek Breads, Grains and Pastries:
Apple Cheddar Chop Bread from A Day in the Life of the Farm.
Apple Cinnamon Buns from Books n' Cooks.
Apple Lekvar Sweet Rolls from Cindy's Recipes and Writings.
Apple Hotteok (Fried Stuffed Pancakes) from kimchi MOM.
Apricot Danishes from Sarcastic Cooking.
Braided Apple Ginger Danish from The Spiffy Cookie.
Bourbon Banana Waffles from Forking Up.
Cinnamon Sugar Apple Muffins from Rants From My Crazy Kitchen.
Easy Popovers with Honey Butter from Hardly A Goddess.
Glazed Cinnamon Buns from That Skinny Chick Can Bake.
Strawberry Rhubarb Almond Rolls from Wholistic Woman.
BrunchWeek Main Dishes:
Breakfast Loaded Tatertot Casserole from Big Bear's Wife.
Grilled PBJ with White Cheddar and Bacon from Nik Snacks.
Steak and Eggs Oscar Style from The Redhead Baker.
BrunchWeek Fruits, Vegetables and Sides:
Aloo Tiki with Apple-Tamarind Chutney from Culinary Adventures with Camilla.
Asparagus Salad from Cookaholic Wife.
Asparagus Caprese Salad from The Barbee Housewife.
Cheesy Potato Asparagus Tart from Sew You Think You Can Cook.
Garlic Roasted New Potato and Asparagus Salad from An Edible Mosaic.
White Cheddar Pimento Cheese Spread from Love and Confections.
BrunchWeek Desserts:
Chocolate Rose Truffles from Cooking with Carlee.
Coffee Almond Fudge from Family Around the Table.