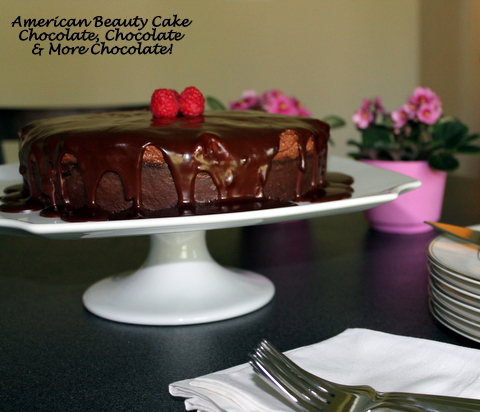 I made this cake for my best friend's bridal luncheon. It was perfect for the occasion – impressive and incredibly indulgent. The cake was rich and chocolatey. It melted in your mouth.
Make Ahead: This cake is best started the day before serving, due to prep times and freezing times. However, the cake and mousse can be made and frozen up to three weeks ahead of time. (See below for details).
American Beauty Cake
Adapted from The Pastry Queen (p. 84-85)
Serves 14-16
Ingredients for the Cake:
1 c. unsalted butter
12 oz. bittersweet chocolate, coarsely chopped
6 large eggs
1 c. granulated sugar
1 Tbs. vanilla extract
2 Tbs. dark rum or Kahlua (optional)
Ingredients for the Milk Chocolate Mousse:
1/4 c. unsalted butter
10 oz. milk chocolate
3 large eggs, separated (into yolks & whites) and then brought to room temperature
3 Tbs. granulated sugar
1 Tbs. vanilla extract
1 c. heavy whipping cream, chilled
Ingredients for the Dark Chocolate Glaze:
4 oz. bittersweet chocolate, chopped
1/4 c. light corn syrup
1/2 c. heavy whipping cream
1 1/2 tsp. vanilla extract
Garnish:
Make the Cake: Preheat oven to 350F. Line the bottom and sides of a 9-inch cake pan with parchment paper. Spray bottom and sides of pan with cooking spray and set aside.
In a double broiler set over medium heat, melt chocolate and butter. While chocolate and butter are melting, whisk together eggs and sugar.
When chocolate mixture is smooth, remove from heat. Whisk in the egg mixture, a little at a time, until well combined. Stir in vanilla and rum.
Pour mixture into prepared cake pan. Place cake pan in a large roasting or baking pan, and fill with enough hot water to come two-thirds of the way up the sides of the cake pan. Bake 35-40 minutes, until cake is firm to the touch. Remove from oven and roasting pan. Place cake in the pan on a wire rack to cool completely. (Note: Cake rises in the oven but deflates to it's original size as it cools).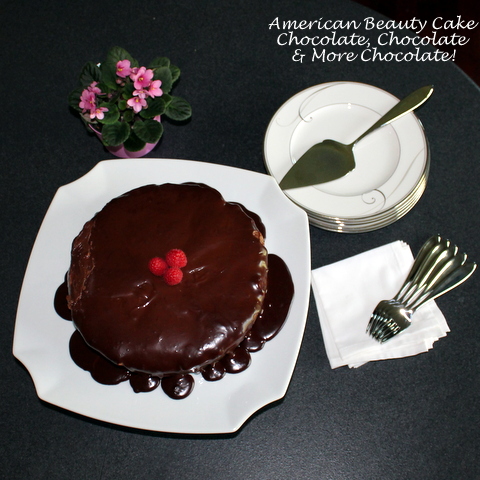 Make the Mousse: In a double broiler set over medium heat, melt chocolate and butter. Set aside and allow to cool.
In a stand mixer fitted with the whisk attachment, beat egg yolks and sugar on medium speed until smooth. Reduce speed to low or "stir," and add vanilla. Slowly add cooled chocolate mixture until just incorporated. Scrape down sides of both and, if needed, mix again. Transfer to a clean bowl.
With a clean bowl and whisk attachment in the stand mixer, whip egg whites on high speed until stiff peaks form. Fold egg whites into chocolate mixture, one-third at a time. Set aside.
Again, with a clean bowl and whisk attachment in the stand mixer, whip heavy cream on high speed until soft peaks form. Fold into chocolate mixture.
Pour mousse on top of cooled cake, spreading evenly. Mousse should come to the top of the cake pan. Wrap tightly with plastic wrap or aluminum foil. Freeze for at least 6 hours, preferably overnight. (If making ahead, cake can remain in freezer like this for up to 3 weeks).
The day you serve, make the glaze by heating corn syrup, heavy cream, and vanilla in a saucepan over medium heat. Bring to a boil and remove from heat. Add chocolate to saucepan. Stir or whisk until smooth. Keep glaze at room temperature so that you can pour it over cake (add more heavy cream if it gets too thick).
Assemble the cake: Remove cake from freezer and unwrap. Dip bottom and sides of pan in hot water to loosen. Invert onto a plate to remove from pan. Invert onto another plate or serving dish again, so that mousse is on top. Pour the glaze over top, ensuring top and sides are completely covered. (Not going to lie, my sides weren't completely covered, but that's ok!)
Refreeze until ready to serve. (The Pastry Chef says to cover with plastic wrap when refreezing, but the plastic completely ruined the set of the glaze. If you have a covered cake plate, and room in your freezer, I'd recommend using the covered cake plate, and then wrapping that in plastic wrap, to protect the surface of the cake.)
Garnish with fresh berries just before serving.