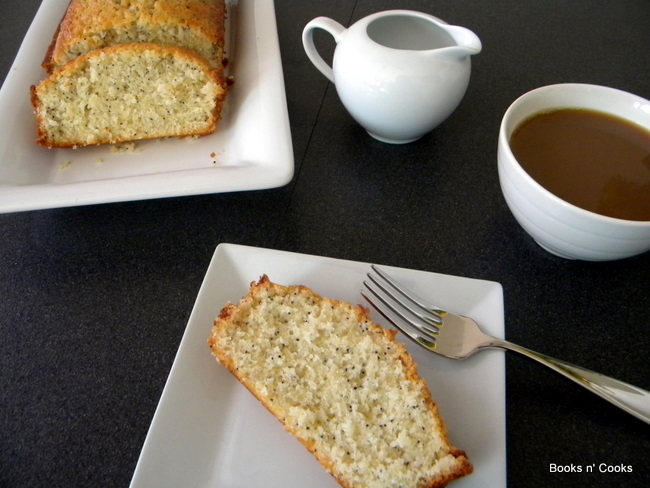 It's rare that I read a recipe and want to make it immediately. Usually it goes on my  list, perhaps getting fit into the meal plan over the next month. This bread instantly appealed to me. I read it one evening and planned to make it the next morning. I pictured enjoying a slice with a cup of coffee or tea for breakfast, tempting my mom (who would be in town visiting) with a slice, telling her that it is way better than her lemon poppy seed bread. The best part was that there were ingredients that I always have in the house.
Most of the time. Not yesterday morning. I had apparently forgotten to restock both my almond extract and poppy seeds. So instead of enjoying my bread for breakfast, I ran out to the grocery store where I spend about an hour (because it's always crowded and they never have enough cashiers working), came home to bake the bread, and enjoyed a slice with an afternoon cup of coffee.
This bread makes me wish I had afternoon tea more regularly or that we had coffee after dinner because it's the perfect accompaniment. I loved the light, slightly sweet flavor of the bread. I have a feeling that I will be regularly stocking my freezer with these muffins.
Almond Poppy Seed Bread & Muffins
Adapted from The Gingered Whisk
Makes 2 loaves bread or 24 muffins
Ingredients:
3 eggs
1⅛ c. vegetable oil
2¼ c. sugar
3 c. flour
1½ tsp. salt
1½ tsp. baking powder
1½ c. milk
1½ tsp. vanilla
1½ tsp. almond extract
1½ Tbs. poppy seeds
Instructions:
Preheat oven to 325F and prepare your baking pans – 2 bread pans, 24 muffin cups, or a combination of the two. Grease the bread pans and line the muffin tins with cupcake liners.
In a large bowl, whisk together eggs, oil and sugar together until thoroughly combined. Add salt and baking powder, again whisking in.
Switch to a wooden spoon and add half of the flour. When mixed in, add half the milk. Add remaining flour. When mostly combined, add remaining milk as well as vanilla, almond extract, and poppy seeds.
Pour into prepared pans – about 1½ scoops of batter with an ice cream scoop for each muffin.
Bake until slightly browned and a toothpick inserted into the center comes out clean, about 45 minutes for muffins and 1 hour for bread. Allow to cool slightly before moving to a serving plate and serving.