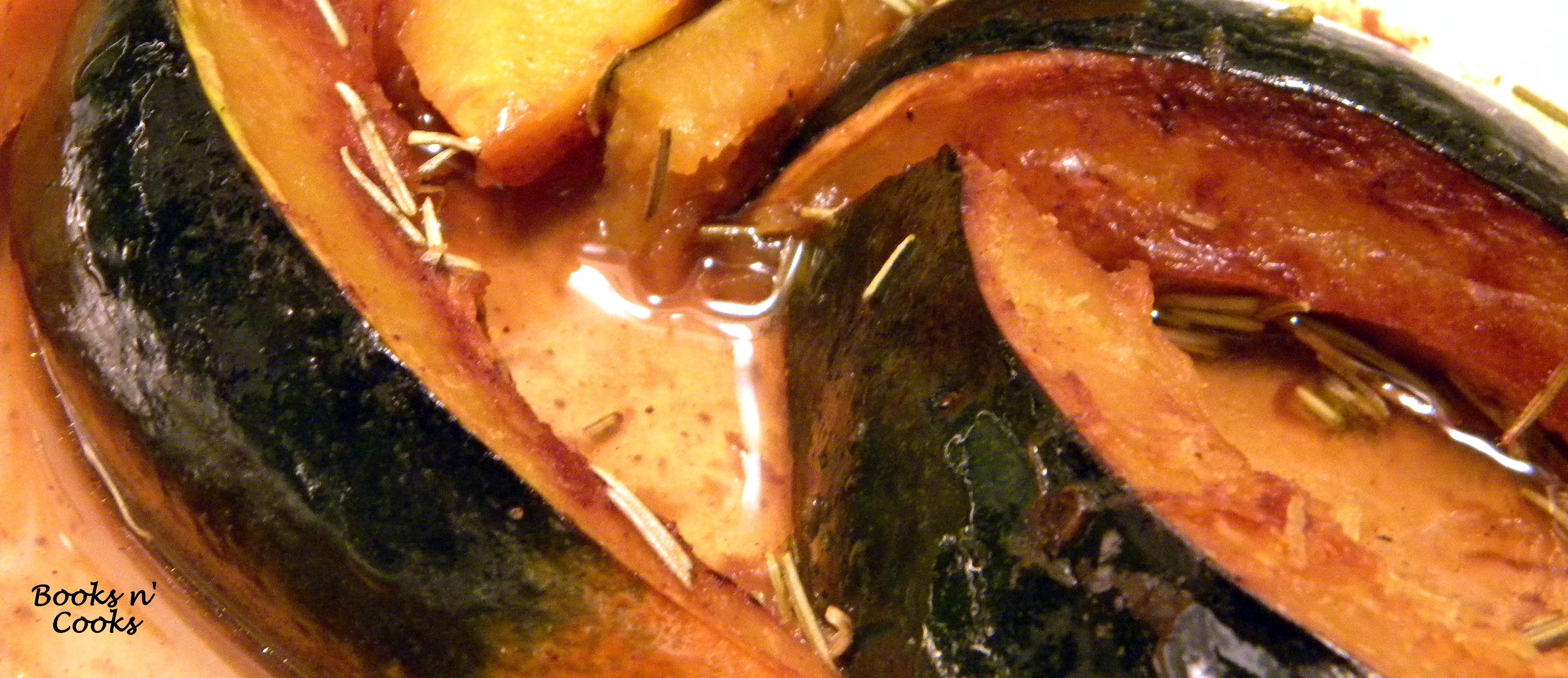 This year was the first time I've participated in a CSA (community supported agriculture). I love that I'm supporting local farmers and providing them with a reliable source of income. However, I do have mixed feelings on the program. I love the CSA I belong to – I love the variety of fruits and veggies I get, and the quality. However, I don't like not knowing what I'm going to get each Tuesday. It makes it hard for me to plan, since I do so much planning and cooking on the weekends.
That being said, getting some unexpected surprises has helped me broaden my horizons and test out new recipes. For instance, I've mostly only had butternut squash, although I've had acorn squash a few times. Every time, I prepare it in the same way – halved, scoop out the middle, and roast it with butter and brown sugar in the middle. This recipe is close, but the rosemary and white wine add a lighter flavor (as opposed to pure butter and sugar). An added bonus? My squash-adverse hubby actually liked this recipe. One more point for Fine Cooking.
Enjoy!
Acorn Squash with Rosemary & Brown Sugar
Adapted from Fine Cooking No. 107 (p. 24)
Serves 4
Ingredients:
1-2 lb. acorn squash (unpeeled), halved lengthwise, seeded, and cut into 8 wedges
1 Tbs. unsalted butter
1 Tbs. extra-virgin olive oil
1/2 c. dry white wine
3 Tbs. packed dark brown sugar
1 Tbs. chopped fresh rosemary (be sure to use fresh – dried rosemary isn't nearly as good!)
1 Tbs. fresh lemon juice
1/2 tsp. kosher salt
1/8 tsp. freshly ground black pepper
Wash the squash and cut it in half. Scoop out the seeds and then slice the squash along each ridge, so that the squash is in wedges.
Heat a 11-12 in. sauté pan over medium heat. Add butter and oil. When melted, add squash, arranging in a single layer. Cook until all sides are golden-brown, flipping as needed, about 10 minutes total.
Add wine to pan, scraping bottom to get up any bits stuck to the bottom of the pan. Sprinkle brown sugar, rosemary, lemon juice, salt, and pepper over squash.
Cover and lower heat. Summer until squash is almost tender, about 10 minutes.
Raise heat and cook for another 5 minutes. Sauce will thicken and squash will be tender. Season with more salt and pepper to taste, and serve hot.