When things are tough, I usually curl up and lose myself in a book. I burrow under a blanket with tea, hot chocolate, or wine by my side. I let the characters take my problems away. The Princess Bride is one of my favorite books to curl up with. I can read it over and over again. As the weather turns chillier and the blanket comes out (along with this book!), I heat up a glass of hot chocolate and get ready to spend a long afternoon on the couch. The hot chocolate recipe is a new favorite recipe of mine. I've given it as a gift, but not going to lie, I kept lots for myself.
One of my favorite food blogs is Everyday Annie (previously Annie's Eats). It's the first blog I check in the morning; it's the first blog I check for recipe ideas. Annie is a full-time doctor, wife and mother. Every time I read her blog, I'm amazed at how much she has accomplished.
Last week, on Thanksgiving day, Annie's father passed away unexpectedly. As I was blessed with a wonderful day with my parents, in-laws, and siblings, Annie was grieving. Tears come to my eyes as I try to imagine what she must be going through. Annie, I've never met you, and you probably don't follow my blog. But this post is dedicated to you and your family. My thoughts and prayers are with you.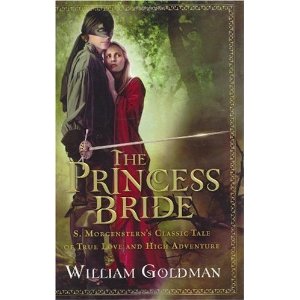 The Princess Bride
By William Goldman
The Princess Bride is a classic. You know the movie? Well, the book is even better.
A father reads aloud to his his sick 10-year old son a story by S. Morgenstern. The story that has everything in it: "Fencing. Fighting. Torture, Poison. True love. Hate. Revenge. Giants. Hunters. Bad men. Good men. Beasts of all natures and descriptions. Pain. Death. Brave men. Coward men. Strongest men. Chases. Escapes. Lies. Truths. Passions. Miracles." (p 9-10) Years later, Goldman gives the book to his own son for his tenth birthday and goes on to discover that S. Morgenstern's story is not what he thought it was. Goldman discovers that his father only read him the "good parts." This book is Goldman's 1973 adaption of S. Morgenstern's tale, leaving out the boring family genealogies and pages upon pages of descriptions where nothing happens.
Buttercup was a milkmaid and the prettiest girl alive. She falls in love with her "farm boy" Westley, who leaves to make his fortune in America. Not long after he sets sail, Buttercup receives a letter saying that his ship was taken by the Dread Pirate Roberts, who never leaves prisoners alive. That was the last Buttercup heard of her one true love.
Buttercup's beauty wins her a an engagement to Prince Humperdinck of Florin. Just before their wedding, Buttercup is kidnapped. Twice. The next two hundred pages is packed with fighting, plotting, deceiving, and revenge as Westley struggles to rejoin his one true love.
If this story rings a bell, it's because the movie was pretty true to the plot as well as the dialog. However, like all movies, it's impossible to fit everything into two hours. Read the book. You'll learn the stories behind Fezzik and Inigo – how they ended up with Vizzini the Sicilian, what Fezzik's childhood was like, and how Inigo's father died at the hands of the 6-figured man. These are the pieces that make me like the characters even more.
Recommendation: Read it. Please.
Grade: A+
And to go with The Princess Bride…. make some of this hot chocolate mix. Give some as gifts or hoard it all. But if you give it as a gift, you should at least hoard a little bit. You'd be sad if you didn't. And then make it every night with a generous dollop of whipped cream. It's rich, it's decadent. It's grown-up hot chocolate. It's amazing.

Homemade Hot Chocolate Mix
This recipe was adapted from Gourmet (2005) via Everyday Annie
Ingredients:
2 c. vanilla sugar
3/4 lb. good quality semi-sweet chocolate, coarsely chopped
4.5 oz. good quality bittersweet chocolate, coarsely chopped
1 c. Dutch process cocoa powder (I used Ghirardelli unsweetened cocoa since I'm unable to find Dutch process cocoa powder)
Place all ingredients in a food processor fitted with the metal blade. Pulse until chocolate is finely ground (mixture should be completely combined).
Makes 38 servings (2 Tbs. mix or 1 c. hot chocolate).
Serve: Mix 2 Tbs. mix with 1 c. warm/hot milk or water, stirring until all chocolate is melted.
Storage: Store in an airtight container for up to 6 months.