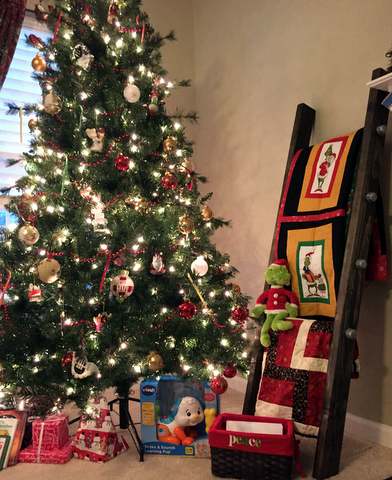 My hubby and I decided to retire our annual holiday party, after several years of hosting. While we loved hosting, the party started after dinner and was not super convenient for families, who either had to get a babysitter or leave very early. So, we decided to morph our annual holiday party into an open house.
Our first annual Holiday Open House was held this weekend. It began much earlier in the evening and was much more kid-friendly than past events. Since it was our first year with a heavier menu (actually serving dinner instead of just an assortment of appetizers) and because we have a baby and a toddler, I kept the menu fairly simple this year.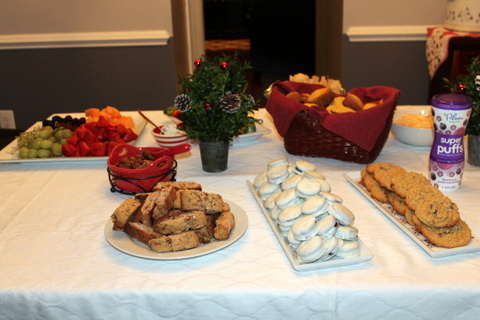 2015 Holiday Open House
Event for ~25 adults and ~12 toddlers/kids
Entrees:
Manly Meaty Chili
serves with tortilla chips, cornbread,* and assorted toppings
Chick-fil-a Chicken Nuggets
Savory Munchies:
Veggie Platter
Fruit Platter
Antipasto Tray (with cashews, olives, crackers, and apricots)
Candied Pecans
Sweets:
Oatmeal Chocolate Chip Cookies*
S'mores Bars
White Chocolate Covered Oreos
Candied Pecan Biscotti
Christmas Cupcakes+
Chocolate Chip Cookie Dough Dip & Graham Crackers+
Drinks:
Pomegranate Sangria
White Wine
Beer
Juice
Hot Chocolate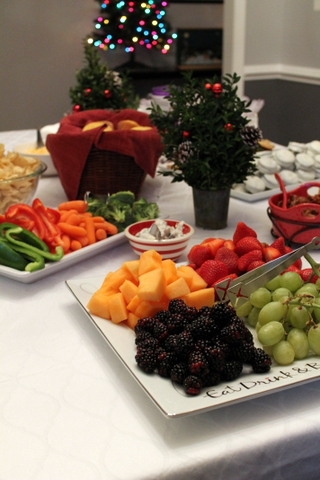 * I linked to my favorite recipes for these dishes, but I will admit that I took the easy way out this year – both of these items were made from mixes to save me a little bit of time and to free up my oven a bit.
+ Dishes brought by friends.