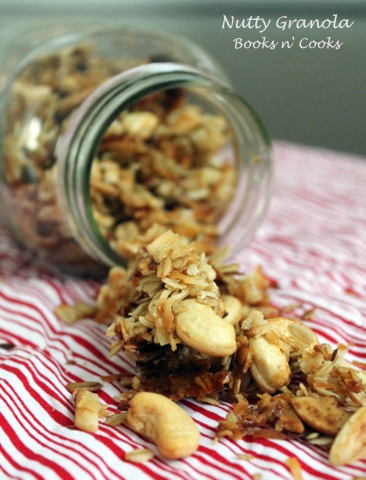 I love sweets just as much as the next person, but I really didn't want to post 12 weeks of desserts for the Twelve Weeks of Christmas Treats, hosted by Meal Planning Magic. I wanted to give you a couple of options that you could make during the holiday season, that while although a little sweet, don't put you into a sugar coma.
So for this week's treat, you have nutty granola. Be careful, it's addictive – I have some on my yogurt for breakfast and then continue to eat it by the handful all day long. This granola is super easy and quick to make and keeps well (at least 2 weeks) if you can keep it around the house. It's a great make-ahead breakfast for overnight guests or, tie a pretty bow around it, and give it as a gift to a food-lover or host for your own travels this holiday season.
Nutty Granola
By Books n' Cooks
Makes enough to fill 2 large mason jars (7-8 cups)
Ingredients:
1 c. roasted cashews, roughly chopped
2 c. old-fashioned oats
1 c. slivered almonds
1 c. sweetened coconut
4 Tbs. vegetable oil
3 Tbs. honey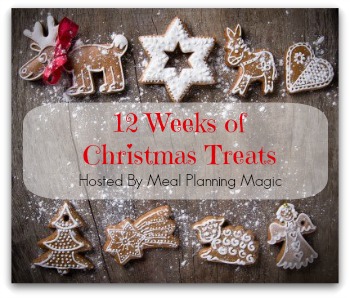 Preheat oven to 350F. Line a large rimmed baking sheet with aluminum foil and set aside.
In a large bowl, combine all ingredients. Toss to ensure that the vegetable oil and honey coat the nuts, oats, and coconut.
Spread onto prepared baking sheet. Cook for 20 minutes, stirring every 5 minutes, until granola is golden brown. Remove from oven. Stir one more time before allowing to cool on the baking sheet.
Store in an airtight container for 1-2 weeks.